They say two is company, but three is definitely a team!
Result: 4th team / 55
Date: Saturday 21 September 2013
Format: 400m open water swim, 15km flat road bike, 5km flat run
Race website: http://www.thefixevents.com/content/the-tri-challenge-team-triathlon-2013/
Full results: http://www.thefixevents.com/content/the-tri-challenge-team-triathlon-results-2013/
This race is a blast! It's a nice change as a triathlete to be part of a team, and I find I don't put so much pressure on myself. Budgie chose to do the first Portsmouth Triathlon the following day instead, so Andy and I weren't certain we'd be able to enter this year, but we finally persuaded Jon to step up – and then he pushed us to keep up with his training. This year, we took on the Challenge as the "3 MAMILs"!
As a reminder, it works like this. You all do all disciplines (unlike the "relay" category offered at many triathlons). You call yourselves A, B and C. A swims first, runs out of the water and hands timing chip to B, B swims, hands chip to C. C swims, hands chip to A, who collects his bike and sets off on the cycle, etc., etc. Fast and furious.
It's a shame that there were fewer teams present this year than at last year's edition. Perhaps people were put off by the unfortunate last minute switch to a team aquathlon in 2012, but they shouldn't have been as Dave and the rest of The Fix UK team put on a very well organised event again this time.
The swim, bike and run laps are usually similar to The All Nations Triathlon also organised by The Fix UK, which was my first triathlon of 2013 and a great prep for the similar style of racing at the Nottingham Triathlon national champs/GB qualifier a few weeks later at the Nottingham Water Sports Centre.
We did ourselves proud today I think, getting in the mix with the Ful-On Tri teams at the sharp end. Our overall result (4th/55) is our best yet. Breakdown:
Swim: (A – Gareth) 6th, (B – Jon) 2nd, (C – Andy) 9th
Cycle: (A – Gareth) 5th (15th overall), (B – Jon) 7th (23rd overall), (C – Andy) 8th (17th overall)
Run: (A – Gareth) 3rd, (B – Jon) 10th, (C – Andy) 24th
(Due to the different transitions for each leg, only the bike splits are comparable across all three team members.)
I'm reasonably pleased with my swim as I sighted well and was making places up as the swim progressed. Longer would suit me better, as I don't have the flat out speed. I definitely need to add intervals to my swim training and I might try going back to the coached Monday night swim at the sports centre. Still, I was fast out of the water too and handed over the chip in 6th place. Jon had an outstanding swim leg to put us in second overall, and Andy held onto that spot and he and I put in the fastest swim-bike transition of any team.
My bike leg, at 38.5 km/h, was a definite PB (quicker than at Nottingham and much much quicker than at the All Nations tri on the same Dorney laps). I hope another winter's trainining will find me the extra 1-2 km/h that I need to be right at the sharp end in AG racing. Jon has suggested doing some TTs. Given he was only 23 seconds slower than me, riding 'Aly' frame and without aero wheels, I need to do whatever he's doing, for sure! However, the Ful-On Tri teams in 3rd and 4th were now closing in. Andy put in a good split too, but just got overtaken in the last few hundred metres, so we started the run in 3rd overall.
I made a reasonable showing (3:38/km pace over a course that was about 4.8 km). That's within a second or two of my fastest runs (Thruxton last year, Dorney earlier this year and a recent Basingstoke Parkrun), but I'd like to move on and finally post a sub-18 minute 5k. Unfortunately I was chasing the fastest runner of the day, so didn't make up any places. Jon and Andy both posted reasonable runs too, but we ultimately lost one more spot to finish 4th overall.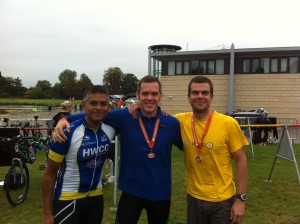 We thoroughly deserved our sausage-in-a-bun and cuppa afterwards!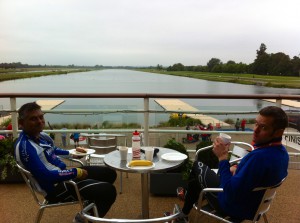 I'd love to be back next year. Aim for the podium in 2014, guys? 😉