Raced the Thames Valley Triathletes' Concorde Sprint Triathlon on Sunday, based at Bradfield College between Theale and Thatcham. Distances were 400m pool swim, 20+ km cycle, 5km "mixed terrain" run – and equally mixed terrain transitions!
Result: 3rd/219 overall (first podium and trophy!)
(S: 7th, T1: 42nd, C: 18th, T2: 24th, R: 5th)
Date: Sunday 19 August 2012
Format: 400m pool swim, 20km undulating road bike, 5km on/off-road run
Race website: http://thamesvalleytriathletes.co.uk/concorde-triathlon/
Full results: http://www.dbmax.co.uk/assets/results/1034/original/WEB00001.html
Bradfield's pretty nearby for me. Even dutifully following the suggested back-roads route to the car park to avoid putting more traffic on the bike race course it only took 40 minutes or so to get there. TVT have also chosen an unusually civilized first-wave start of 9:00 a.m., so with my estimated (6 min) swim time putting me in the final wave (eeek!) not due to go off until 11:10, I got a lie in! As it turned out, they rejigged the waves again and were still running just a bit late by the end so I didn't actually start racing until a quarter to twelve, and was able to enjoy racing in the midday sun. 🙂
The transition arrangements were a little complicated with a flight of 25 steps and a further 50m up-slope on exiting the swim and then, running with/carrying bikes, a further short grassy run and another flight of 10 steps to exit T1, followed by another steepish ride up and a right turn at a T-junction before you could really get going. And later on, T2 was almost as intricate! Luckily, having arrived in good time and racked bike next to plenty of intimidating £3000+ TT bikes, I got chatting to another nervous member of the final wave, and we had plenty of time to walk all the transition in/out and finish routes. Even better, unlike several events this year, Concorde was extremely well marshalled by helpful, cheerful TVT members who knew/cared what they were doing, so it actually worked very well.
I've been doing a weekly coached swim session for the last month so had been hoping to do well in the first discipline but most of last year's top 10 were in the final wave, and even the nervous guy was a swimmer by background and planning a 4:20(!!) swim split, so I was a bit worried about being dropped from the get-go. It didn't help that when we finally started I didn't feel like I was moving that well in the water and the swimmer who started behind me caught me after about 6 lengths. I resigned myself to drafting him to the end of the 400m. In the end he let me through again with a couple of lengths to go and I exited dead on 6 minutes, so not my fastest but still better than any race in previous years.
I fumbled T1 a little, but settled into good rhythm on the bike fairly quickly, and passed nervous guy and the other swim specialists from my wave after only a couple of minutes, which calmed me down. After about 5 or 6 km two of the Team Kennet guys came past me but I actually felt good about that because I've seen a lot of unpunished drafting at races this year and seeing four guys from the same club in the same wave, I'd kind of resigned myself to seeing them work as a team but they were racing honestly, overtaking cleanly. (And not going very much quicker than me!) It was nice to be going quicker than a few of those with pound notes dripping off their tri bars and aero wheels too. 🙂 I'd Streetviewed the bike course having not had time to recce it so was ready for the steep downhill to the turn-around-about and was glad of the small chainring of my compact on the way back up. Good encouragement from the marshalls as well. At this point I was a bit confused about how many of my wave were ahead or behind me other than the two TK guys, and after another couple of k of passing cyclists from earlier waves, I appeared to be on my own. Luckily I let this settle me rather than worry me and I think I held my form on the bike pretty well. Normally I wouldn't take fluid on the bike for a sprint distance like this, but it was so hot I'd taken a half full bottle and was very glad of it.
Average speed for the bike leg was just over 34 km/h, and although my legs felt pretty shot coming into T2, I've done enough races and brick sessions recently to know I can run when they feel like this. I've had more problem in recent sessions with immediately getting stitch on the run.
This time I seemed to have judged it right, no stitch, and I could hit pace straight off. Within just a minute or so I saw one of the TK guys walking back in the opposite direction… I didn't find out why he called it a day but that was one fewer ahead of me… The first half of the 5 km run is rural – edge of field, track, woodland, tow path, etc. and I like this kind of running. I passed 3 or 4 more from earlier waves before hitting the road that would take us back to the finish. I'd planned on picking the pace up at this point, but I was basically on the limit so sustaining was all I could manage. Without km markers on the course or a GPS watch I couldn't tell how fast I was going but I was passing people often now, exchanging grunts of encouragement. The second water station was an unexpected bonus and I tipped another cup over my head for cooling and dug in for a final push for the last kilometre, spurred on by the thought that some of my wave could have started up to 30 seconds behind me on the swim, so finish behind me and still beat my time. The finish gantry was at the top of a 100m slope and I fairly collapsed when I crossed it.
Chip timing from DB Max meant that when I could get up off the ground I got an immediate print-out of my split times and 'current' results… "Pos 3″… does that mean… yes! And no-one still to finish could beat me. It turned out I had been catching the Team Kennet guy who'd gone past on the bike; he only finished 43 seconds in front, and there hadn't been anyone else to get up to, just one guy from an earlier wave who'd gone round 2.3 seconds quicker than me – you could pick any part of my race you like and say, well, I lost that there.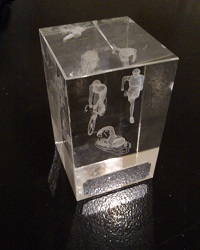 So, 3rd overall out of 219 starters and my first trophy! Typical that this was the race where I didn't have any racing buddies and my marvellous support crew (family) had the day off. I don't quite feel like Jonathan Brownlee, but you can tell I'm happy. 🙂
And I'll plan on another crack at it next year.