Phew. It's October. And this should be the penultimate race report of the year!
Result: 44th/1310 finishers in 1:28:41 (and Sony won the corporate men team prize!)
Date: Sunday 7 October 2012
Format: 21.1km undulating road run
Race website: http://www.destinationbasingstoke.co.uk/?page=BasingstokeHalfMarathon
Full results: http://www.iekchiptiming.com/results/Basingstoke+Half+Marathon-r129.html
Photos: http://bit.ly/Basingstoke-half-2012-photos (you have to search by race number; I was 1589)
Sunday was the second running of the Basingstoke Half Marathon. I'd had it in the back of my mind, but as most of my runs in races and training have been closer to 5 km, I didn't decide to enter until quite late. And I have Jill Penfold to thank for massaging my calves back to life after some heavy training.
Last year's race had been in the October heatwave, with over a thousand competitors, and had got great reviews, perhaps a hard act to follow. But far from having a "difficult second album", the organizers, Destination Basingstoke, put on a fantastic race. The organization was impeccable and the logistics were straightforward – well, from a user's perspective! The course marshals and crew in the tents were friendly and helpful and the 100s of spectators in the villages and at the finish provided wonderful motivation, with many of them cheering and clapping every runner who came through not just the one or two they were waiting for. And a quality technical T-shirt as a freebie to boot. They had almost 2000 entries, though a high DNS rate, with about 1350 on the start line. I lined up on the start with 3 other guys from Sony all shooting for around 1h30, which was great. I have enjoyed the races I've done with mates this year much more than the ones I've entered solo.
It's great to have a local race that shows off our town and local countryside. There's a couple of kilometres of gentle fall and rise from the start outside War Memorial Park before you pass the footbridge on the Cliddesden road that we use a lot because it pops over the M3 from Jays Close (where the Sony offices are). Em and the kids, and Cam and the twins, cheered loudly!
Warm-up over, the route then takes in the rise up to Cliddesden Primary School (past the Millenium Hall that hosts the finish of the Emsworth-Basingstoke Relay race in the spring) and then the drag up to Ellisfield Green. You hang a left to run past Ellisfield church (and the changeover point for the final leg of Emsworth-Basingstoke) before heading downhill on College Lane to do the very short stretch on Berrydown Lane.
I was pretty sure I was running on pace (6:45/mile) until this point and feeling reasonably comfortable. Coming up past The Fox pub you're about half way, and there were more good crowds. Someone was calling out positions as we ran through. I heard "28th and 29th" which made me a bit nervous! It was damp and cold climbing back up to Ellisfield Green and I had to grit my teeth as we turned left across the fields towards Farleigh Wallop.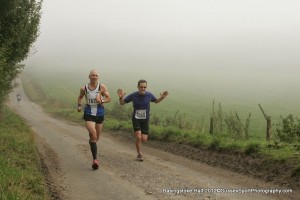 The infamous Bedlam Bottom involves a steep descent and an equally step rise into the village. I felt OK (see photo) and didn't check at the time, but my HR trace says 193 bpm. Not good with 6 km still to run.
By the mile 10 marker halfway down Farleigh hill, I'd had enough. I was having to hold back to keep control of developing stitch and runners were overtaking me going downhill, which never happens. The crowds were still cheering as we came through Cliddesden but I just wanted to hide. The last couple of miles were hard. Graham Hall, one of the other Sony runners, overtook me looking super relaxed with less than a mile to go, but there was no way I could stick with him.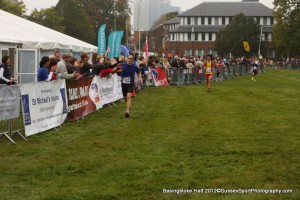 The crowds in War Memorial were enthusiastic and it was really nice that family had walked/scooted/biked up from Cliddesden to the park in time to yell encouragement. I spotted Dave a few metres from the finish and had time for a high-five. I crossed the finish line and collapsed. HR trace says last km was all over 190 bpm, 193 bpm on the line. I never ever wanted to run that far that hard again. Ever.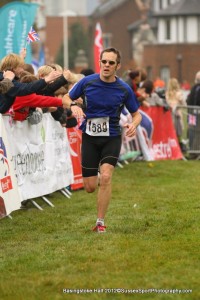 I'm really pleased with 1:28:41 in my first proper half marathon and top 4%, amongst the real runners. Graham had finished 21 seconds (1 per km!) in front of me, and Jon and Kev followed a few minutes behind me. Graham hadn't declared his Sony allegiance before the race, but luckily the rest of us were still quick enough to nab the corporate men team prize. Apparently we have to pick up a trophy at a ceremony with the mayor next week. (I met him at a pre-Olympics challenge in Festival Place. He made a frantic sprint on an exercise bike wearing mayoral robes and chain look perfectly natural.)
I have to sign Graham up for the Emsworth-Basingstoke. And hey, my legs are starting to feel a bit better now. Maybe I could do Basingstoke Half again next year.
Anyway, one race left for the year. Thruxton Mass Attack duathlon (5km/30km/5km) on the race circuit. Then lots and lots of winter training to hit the ground running in 2013!