After a first dip in the water at the weekend, I've been looking forward to the first Try Tri Events mid-week aquathlon of 2013, at Eastleigh Lakeside.
Result: 1st/15
Date: Thursday 26 April 2013
Format: 750m lake swim, 5km trail/grass run
Race website: http://www.trytri.co.uk/
Full results: https://www.facebook.com/photo.php?fbid=531641920221427
I entered three of this five-race series in 2012, though only actually got to race once (July 2012), the second scuppered by lightning and the third by work commitments.
I'd entered this one, the first of 2013, to fit in an open water swim, and do a fast run session, during a block of training that's really been all about the bike. I've ridden every day this week, including earlier in the day before the aquathlon.
Driving down to Eastleigh from work, I was glad I'd entered, it being such a beautiful sunny evening. The scene at the Lakeside Country Park was low key, but well organised, with the transition, and lake entry and exit, all clearly marked. There were only 15 or so of us racing, and it was nice to have a chat to the others while struggling (maybe that's just me) into our wetsuits in the evening sun. I got marked up and had a giggle that I was race number 1… must have been first to enter online or something! The race briefing and ultimately the start were right on schedule.
I'd planned to push the swim as much as I could while maintaining form. Push I did, right from the 'go' and made it to the first buoy in front. Unfortunately, I'd shortened my stroke right up to get there, and couldn't make myself lengthen out into better technique. D'oh! I tried to relax and draft the better swimmers who were coming past, but the water was so murky, that proved too difficult. (It does make me think I'll stick with training in the Reading Lake which was crystal clear on Sunday.) I was also suffering my usual veer to the right, which I need to do something about. I'm sure I swam a fair bit further than I needed to! Several lessons to take away.
The buoys were not so close to the edges of the lake as last time I raced here, so I think – and I hope – the swim was actually fairly spot on 750m, and I'm relieved to have exited the water in under 11 minutes.
I had a good transition for me, fighting the velcro at my neck for a second or two, but otherwise removing wetsuit pretty quickly. I'd adjusted shoes so I could run sockless and I was out on the run in 37 seconds, only 9 slower than last time when I didn't have a wetsuit to remove!
The run course was almost the same as last time, just a slightly shorter transition and a different path across the mini railway track to add a few metres. There were plenty of signs and a few friendly marshalls, just one spot on the 'grass bowl' which would have benefitted from another one, as I know a couple of people took a wrong turn.
I thought I must have started the run in about fourth or fifth. I started passing people but it was hard to tell how I was doing because I didn't know how many were doing the 400m/2.5km distance. I tried to grunt encouragement to everyone I passed and thanks to the marshalls, but I'm sure I wasn't very intelligible. 🙂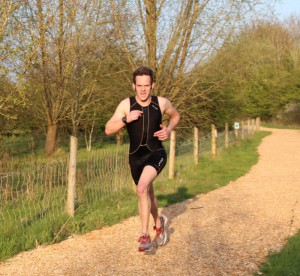 I managed to maintain a fairly consistent pace for the two laps and pick it up for the last 500m or so. I was glad when the finish came into view.
And then they said I'd won! I couldn't believe it. But I've now got my first ever winner's medal and the results list to prove it! The photographer, Nicola Casey, has posted some great shots of the atmosphere, race and aftermath (Facebook photo set).
All in all a fab evening. I have lessons to take away from the swim, but transition was OK. My run split of 18:44 was a few seconds more than last year, though I claim I was a bit faster (maybe 3:52 /km pace) due to the slightly longer course! Still, it'd be nice to get closer to the 3:40-3:45 /km mark next time out.
I can't make the next one in the series, but will be back later on for sure.
)
(If the embedded player isn't working for you, try watching on YouTube.com.)