Today was my opportunity to step forward from Salisbury two weeks ago towards Nottingham in a week's time…
Result: 8th/407 overall (3rd/68 in M35-39)
(S: 16th, T1: 18th, C: 14th, T2: 10th, R: 15th)
Date: Saturday 24 May 2014
Format: 400m lake swim, 21km flat four-lap bike, 5km two-lap run
Race website: http://humanrace.co.uk/events/triathlon/eton-supersprint-saturday
Full results: Full results
Photos: on SportCam – I was bib no. 385 (link expires after about six months)
The event was well organised, the kids enjoyed the Scootathlon (here's their race report), and although we got soaked beforehand, the weather could have been worse. Registration was straightforward and the entry fee included a nice, non-technical, T-shirt with Human Race's "Do Triathlon" slogan on the back. Racking was numbered, so no need to arrive at the crack of dawn.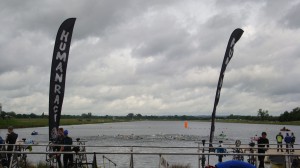 My swim was OK… although to prepare for Nottingham I could have done with a few more people churning the water up and trying to beat my head in! I was third or fourth out of the water in my wave.
T1, I struggled with my wetsuit, particularly getting the sleeve off over the top of my Garmin Forerunner 910XT. I hadn't raced open water with it before, so that needs another practice before next weekend. On the other hand, as at Salisbury, the Auto Multisport mode of the 910XT worked perfectly, transitioning from swim metrics to picking up HR and bike and run sensors with no problems at all.
I also made a horrible mess of getting cleated in as I mounted the bike, so I gave up 10 seconds or more between exiting the swim and starting to cycle. My race skills have gone rusty for sure. Must. Do. Better.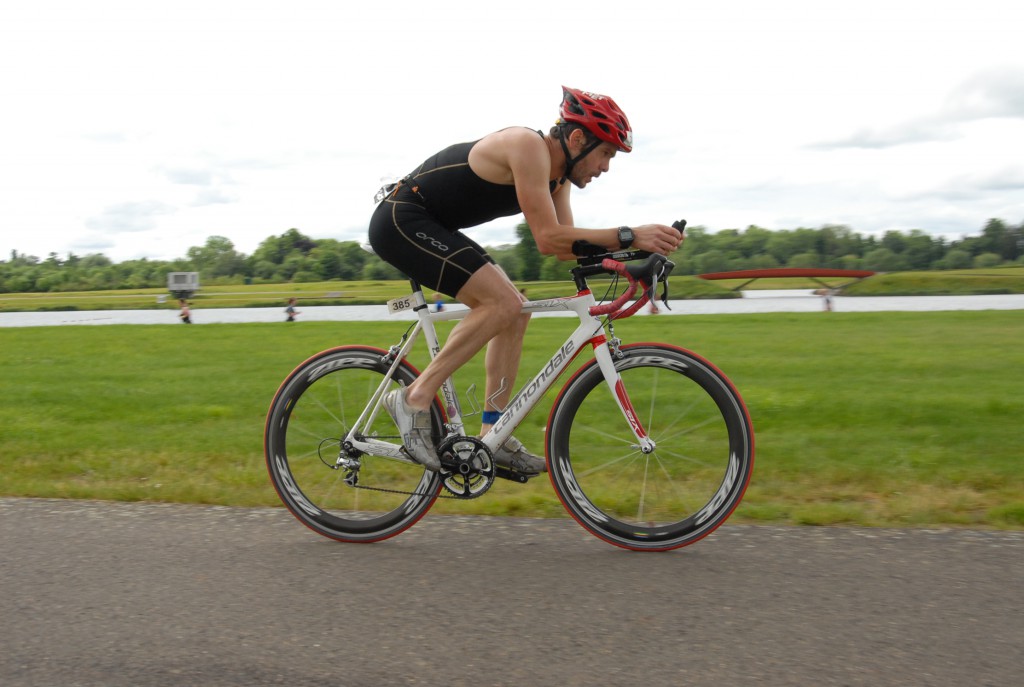 Once out on the bike, there was a 15mph cross-tailwind down the side of the lake, a challenging headwind as you turned across the far-end of the lake and I guess a bit of a cross-headwind coming back the other side of the 'return' lake. Although the downpour had stopped just before my wave, the roads had quite a bit of surface water to dodge and I took all the corners a fraction slower than I might have. It continued to dry out as the day went on so the later waves had it a little easier.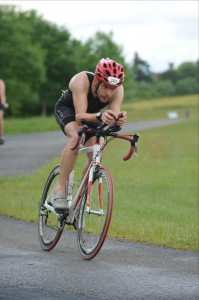 I felt more comfortable on the bike than at Salisbury and maintained my effort and speed pretty well through the four laps. It was great having Em cheer me on round the boathouse at the end of every lap. Dorney really does lend itself to spectating. My average speed (37.7km/h) was better than I'd feared and worse than I'd hoped – it's what I managed at Nottingham a year ago on my first ride with these wheels. Given the conditions and the up and down few months I've had, that's a victory, and I hope it means that if I pull out all the stops next weekend I can go faster when it matters.
I guess we'll see.
I hadn't saved a lot for the run, but I managed to get through T2 as fast as the others at the sharp end of the field, and set off with gritted teeth. This is my first run with the new Brooks Ravenna 5 that I've just picked up from Sweatshop Reading and relaced with Xtenex laces last night! It seemed like a long way to the turn-point mid-way down the side of the lake. I kept closing my eyes trying to relax through the pain, but it was awfully tough going. Em shouted encouragement but despite upping my cadence, I couldn't squeeze out any more pace and made no inroads into the lead of the one guy from my wave I could see in front of me. My watch says average pace of 3:46/km which is only a couple of seconds shy of my best triathlon run, but it'd be nice to pull out another gear in a week's time.
I finished 2nd in my wave, 3rd/68 in M35-39 once you include the Ful-on Tri club wave that went off last, and 8th overall. A good result… but the guys ahead of me were a lot quicker, and looking at the results from the British Sprint Champs that ran on the same course (but with a 750m swim) a week ago, a GB age-group qualifying spot next weekend is beyond me still. I'll be happy just to improve on my result from last year.