Sunday was Reading Triathlon, in glorious sunshine. I had ended up selecting to sprint (750m/23km/5km) rather than do the Oly (1500m/46km/10km), having had a lacklustre few weeks training/healthy living-wise over the school hols.
Result: 11th/253 overall
(S: 10th, T1: 75th-ish, C: 46th, T2: 9th, R: 3rd)
Date: Sunday 9 September 2012
Format: 750m lake swim, 23km bike (reduced to 22km on the day), 5km trail run
Race website: http://www.2mevents.com/index.php/event/reading-triathlon-2012
Full results: http://www.dbmax.co.uk/assets/results/1067/original/reading_sprint.html
Photos: http://www.flickr.com/photos/8987555@N08/sets/72157631485073810/ (great photos of the day, but none of me as far as I can see!)
Not bad considering I went into the back of an open top sports car that slammed on its brakes in front of me, coming out of T1 onto allegedly closed roads. Dealing with that first: once I'd had a chance to check its seats were indeed real leather and clambered back on my bike and got going, the collywobbles meant it took me a little while to get up to speed. My left knee had plainly taken the brunt of the impact and I had blood oozing down my leg, but adrenaline meant I couldn't really tell what hurt or how much. Anyway, you can tell from the result that I made it round. St. John Ambulance kindly cleaned me up and provided a cold pack at the finish, but it was still sore and bleeding late afternoon. A trip to the walk-in clinic at the hospital resulted in lots of butterfly stitches and advice not to flex my knee much for the next 3 days, which will be easy because it's so stiff from the bruising! Could have been a lot worse… and maybe will be, because I haven't really inspected the bike for damage yet!
Swim was probably my best open water race to date, because I worked myself into a little bit of space just behind the front line on the start and didn't get kicked or punched, much. I bought some proper open water goggles (Blue Seventy Vision in black/gold mirror) earlier in the week and they performed pretty well, cutting out the sun glare (better even than my much-loved Oakleys on dry land to be honest!)  and giving much much wider vision than the pool goggles I have been racing with. I made the swim a little longer than necessary by sighting on the wrong buoy for a while, which meant I didn't find any feet to draft down the back straight, but I stayed relaxed.
T1 was slow – basically I need to be able to get out of my wetsuit much faster! Transition was well organised given the 500+ competitors in a small space, with good signage and marshalling, and carpetting from transition to/from the cycle mount line – so at this event, learning the flying mount/dismount and inserting feet into shoes on the bike would have been worthwhile.
So, fool in sports car decides to exit the race site right in the middle of a wave rather than waiting a few minutes, is yelled at by the marshalls, stops, starts and stops again… you've heard the rest. It cost me only 15 seconds or so at the time, and something over the next 3 or 4 km for sure, but hard to say how much over the whole bike leg, or run. The bike route was a clockwise circuit from the Reading Lake Hotel down to Mortimer and back. Quite a nice technical course with a few little inclines up and down. I can't be too disappointed with an average speed of about 34 km/h, similar to Concorde Tri a few weeks ago, but the fact is that the bike leg was 10-15% longer than usual for a sprint tri, and having been overtaken by quite a few people, especially in the opening kilometres, I knew I had a lot of work to do on the run. To be consistently challenging for top-3s next season I need to find 10% more speed on the bike without losing any run speed. This is going to be my goal for the winter.
T2 was pretty good, I'm getting the hang of this one!
The run course was around the lake, 3 laps for the sprint, 6 for the Olympic (that'd be boring, huh?). It's briefly on tarmac, but mostly rutted/grassy track. At least it was dry, though clods of mown grass made the going… interesting. Luckily I kind of enjoy running on this stuff and most people don't, so I was overtaking straight away. The Olympic waves had started before us lightweights, so it was hard to tell who was on what lap and basically you had to just keep dodging past people as fast as you could. I didn't get overtaken which was nice. I had planned to shoot for my first sub-twenty 5 km in a tri, and didn't quite do it, sort of. The course was actually long by about 300m, so 20:42 on difficult terrain (though flat!) with tricky overtaking, was pretty good. I just failed to catch the next man from my wave at the finish and collapsed.
It was a real shame not to have had team mates at this one. Though it's possible some of the above might put one off, I won't rule it out for next year. The road closure and car parking logistics (in GreenPark business park, so a mile to ride your bike with transition kit to get to Reading Lake) and the fact that I couldn't tell if spectators were going to get any view, meant I persuaded family not to come support, but actually if the weather were again like it was yesterday, the multi-lap run next to the lake probably does make it more interesting to watch than some.
By the way,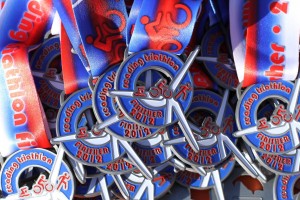 check out the rather unusual finisher medal that has as its unique element the nearby wind turbine at M4 J11!
My next* event is the TRI Challenge Team triathlon on 29 September with friends and ex-Sony colleagues, Andy and Budgie. It's a relay where swimmer A tags B, tags C, then repeat on bike and run. With super-sprint distances (400m/15km/5km), flat course (Eton Dorney) and a breather between each event, it's fast, fast, fast. Last time round, in 2007, we managed 16th as "Team TRI Harder". This year as team "3 Wise Monkeys", I hope we can all go faster!
2007: http://www.tri247.com/results_3247.html
2012: http://www.thefixevents.com/content/the-tri-challenge-team-triathlon-2012/
*Actually, there's the small matter that I have an entry for the last Eastleigh Aquathlon on the Thursday evening before. Hmmm…
Now, off to gently flex my knee.