This is an event I really enjoyed back in 2007; I don't know why it's taken this long to do it again! Budgie Johnson, Andy Gajraj and I were Team TRI Harder then, and this time around we would be 3 Wise Monkeys.
Result: 11th team / 94
Date: Saturday 29 September 2012
Format: 400m open water swim, 15km flat road bike, 5km flat run
Race website: http://www.thefixevents.com/content/the-tri-challenge-team-triathlon-2012/
Full results: http://www.thefixevents.com/content/tri-challenge-triathlon-results-2012/
Unfortunately, the day turned out to be a bit of a fiasco. To cut a long story short, with the Olympic teardown still going on, the site contractors had left the planned bike and run course covered in mud and debris. After two hours delay for a road sweeper to arrive and trundle round, the tarmac was left looking clear but unfortunately still as slippery as black ice on several corners, so they ended up running the event as a team aquathlon instead of a tri. I was a bit nonplussed while at Dorney, but 25 minutes of racing for £50 is rather steep, so I'm hoping The Fix UK offer some compensation.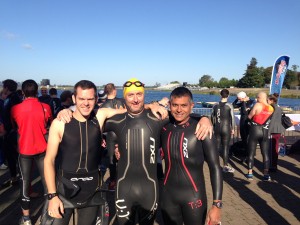 Anyway, it works like this. You all do all disciplines (unlike the "relay" category offered at many triathlons). You call yourselves A, B and C. A swims first, hands timing chip to B, B swims, hands chip to C. C swims, hands chip to A, who sets off on the bike… er, well, run. See? Fast and furious.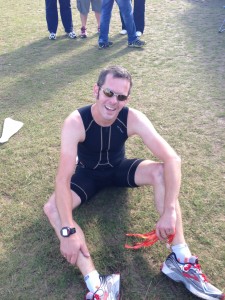 I'm reasonably pleased with my swim result (5th/94 of the 'C' swimmers), though I struggled with sighting, and reasonably pleased with my run time (19:09 for a 5km that was about 150m long). Both were quicker than 2007, and our overall result (11th/94) was also better (16th/55 in 2007). It's just a shame we didn't get to test ourselves on the bikes too. Breakdown:
Swim: (A – Budgie) 57th, (B – Andy) 12th, (C – Gareth) 5th
Run: (A – Budgie) 32nd, (B – Andy) 20th, (C – Gareth) 14th

One other note: by naming ourselves "3 Wise Monkeys" we unknowingly got ourselves race number 1 as they sorted the team names alphanumerically!