Today was my first race of 2013, a chance to check how my winter training is going after being cooped up indoors for January.
Result: 16th/173 overall
(R1: 18th, T1: 75th, C: 31st, T2: 35th, R2: 14th)
Date: Saturday 2 February 2013
Format: 5km run, 20km bike, 5km run (no hills, no traffic, just icy wind to contend with)
Race website: http://www.votwo.co.uk/ Gatorade Dorney Duathlon R1 February 2013
Full results: final results via http://www.votwo.co.uk/results.htm
Photos: available from Charles Whitton Photography for the next three months
The morning was bright but cold, with a biting wind. I arrived just after 08:00 and was a bit perplexed as I drove past transition to see bike out where I thought run out should be and vice-versa. It turned out a rowing event had been moved from the river to the lake and the votwo gang had had to quickly rethink their entire course. I think they had managed this very well, I might say I even preferred the new laps (I've mapped run and bike) to last year's ones.
I was early enough to fit in a quick spin round the new bike lap before racking my bike, which gave me a chance to appreciate how strong the wind was and adjust final clothing choices (i.e. switch short fingered gloves for long fingered ones!). Transition (with numbered racking) was busy because there were well over 200 athletes racing.
The start was prompt at 09:30 but in just the 10 minutes since I'd taken off my warm top I'd got really jaw-clenchingly teeth-chatteringly cold. At least I didn't make the same mistake as last year and I was lined up on the front of the grid for the first run.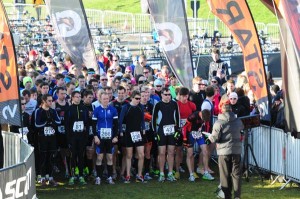 I set off at a good clip, but was a bit dumb-founded by how many runners were stretching away in front of me immediately. I was reassured when I hit the first turn-around point (1.25 km) in about 4:30, a few seconds ahead of target, even if there were 20 or more runners ahead of me. When we turned around though, we were hit by the wind that was to be a feature of the rest of the race. Not being tucked in behind another runner it was hard going but I hit the mid point (2.5 km) in about 9:15, on target. A few of the runners ahead peeled off to transition for the super-sprint race which was running concurrently, and I wondered idly whether that would have been a gentler start to the year. A shout of "Go, Gareth!" snapped me back to the matter in hand – my sister and her two girls had arrived to egg me on. 🙂
The second out-and-back lap went much the same, fast to the turn-around and slower back into T1. Now, an 18:45 matches my parkrun PB at Norwich just after Christmas, and my HR trace from today shows I was much more comfortable (or just cold!?) than I had been in Norwich or when running fast at the start of Thruxton Mass Attack back in October, so that's good… Maybe I ought to have pushed a bit harder?
On the other hand, let me count the ways I screwed up in transition. One. I picked the wrong bike rack. Two. I obviously hadn't balanced helmet on handlebars securely enough, because it was lying on the ground. Three. Cold fingers in long-fingered gloves took an age to do up my helmet strap. Argh. A waste. At the time I'm writing there are still no full results available, but I'm expecting to see myself well down the times for T1.
Once I got going on the bike, I was flying. 42-43 km/h down the side of the lake, in comfy aero position. I wondered how much of this was the tail wind… After the tight turn at the other end it became clear: quite a lot. The second half of the lap, back up to the top of the lake, averaged 29 km/h. Ouch. On the plus side, I was still making use of the aero bars, and only one rider came past me on lap 1.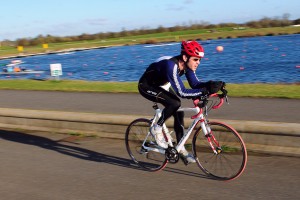 Laps 2, 3 and 4 were much the same. I even went a bit faster on the way down the lake – and a bit slower into the head wind. I think that in total another 4 or 5 riders came past me. They all looked very pointy… and I do wonder whether I could tweak my position further, though obviously it's still the engine that needs most work… Of course, we all know a tailwind does not make up for time lost riding into a headwind of the same speed, but an average of 33.4 km/h still seems too slow. It'll be interesting to see how far behind the top times I was today.
You'd have thought I couldn't muck up T2 quite as much. Let's see… One. Went to the wrong bike rack. Yes, again! Honestly, I had scouted transition. I knew where my rack was. The cold must have befuddled my brain. Two. When I'd got my run shoes on, I started to run… towards bike out. Three. Then I noticed I'd still got my bike helmet on.
I think I need remedial transition lessons. Or to write lines after class. Or something. Let's just hope I've got these mistakes out of my system early in the year!
The final run was hard work. I grimaced at my sister and nieces and set off. My run form deserted me somewhat (too upright) but I did keep my legs moving. The middle section's a bit of an unhappy blur. On the run back from the final turn-around to the finish the wind was really tough, and someone came off my shoulder and gave me some shelter for a bit. I was spent, so thank you. In the end I ran fairly evenly for about a 19:30. I think that's a PB for the end of a du/triathlon, but a way off where I want to be later in the year.
So, all in all, a good test of the work I've done in January. I hope it'll be a bit warmer for Winchester Duathlon and my next Dorney Duathlon. For now, it's back to the training.