Wow. So that's what a National Championships feels like.
Result: 21st/72 in M35-39 (131st/891 overall)
(S: 13th, T1: 25th, C: 26th, T2: 34th, R: 23rd)
Date: Saturday 1 June 2013
Format: 750m lake swim, 20km flat four-lap bike, 5km flat run
Race website: http://www.onestepbeyond.org.uk/nottingham-triathlon.php
Full results: Live results, final results, and results on Tri247
Photos: by http://www.marathon-photos.com/
I feel like I need to write two reports… One about the whole experience of competing at a sprint race with an entry of 1100 triathletes, and one about the result and how I'm processing that.
The experience was amazing, the venue was great, the sun shone (but not too much at 07:30!), and racing in a wave of 200 including my age group's European and World gold medallists was intense. The result, well… on one hand, 21st in the national champs feels like an accomplishment when everyone was racing to qualify for the worlds, and I knew qualification was a long shot, but on the other hand now I want to go back and work out where I can improve by another 3 minutes – a bit of a tall order before Bristol in less than three weeks time.
One Step Beyond obviously know how to organise a race. In fact, they put on three in three days, with the British Sprint Triathlon Championships preceded by the Emergency Services National Championships the day before and followed by the new Outlaw Half the day after, all hosted at the National Watersports Centre at Holme Pierrepont. The Services were racing on the very same course as we would, so with registration for our race on the Friday, it was a good chance to check out the transitions (separate T1 and T2), scout spectating spots for the family and generally soak in the atmosphere while watching someone else race.
Despite having booked our holiday in Sherwood Forest to be close to Holme Pierrepont, when we discovered my age group would be in the first wave of the day at 07:30, we decided to spend the previous night in Nottingham itself. It was still a very early start. After taking advantage of the pool and sauna at the De Vere Village in the afternoon and laying out and packing my two transition bags, triple checking my bike, having dinner and getting the kids to sleep, it felt like I'd only just closed my eyes before the alarm went off at 05:00.
All the race day practice this year meant I went through my routine on auto-pilot; coffee, half a bowl of cereal just to line my stomach, more coffee, shower to wake up, kit on. Sore throat still in evidence, but pah. Em wrangled the kids and we checked out, got the bike back on the car and got going before 06:00, right on schedule. The kids ate the breakfast bags we'd made up, and we were all in a reasonable humour by the time we arrived at Holme Pierrepont. The car park was filling up and the whole venue already quite busy, but we knew exactly where we were going and I managed to keep the nerves in check. Racking and jog/stretch warm-up went according to plan and I was pulling on my wetsuit on top of the boat house roof just as they called the race briefing at 07:10. (The boat house roof overlooked T1 and the lake, so it was a great place for the family to watch the start.)
The bikes in transition demonstrated the seriousness of the field, barely a 'normal' wheel in evidence and you could count the bikes without aero bars on one hand. Two hundred athletes getting into the water for a mass start is an impressive sight (almost four times as many as at Box End), and frankly the crowding in the water for the minute or two before the gun was intimidating!
I started from the second row back and just tried to keep swimming. I found it very hard to sight and seemed to both overtake and be overtaken regularly, which might suggest there were a fair few of us zigzagging somewhat around the swim lap. And no surprise, the only time I found myself in clear water was just an indication that I'd gone off the racing line… When I exited the water in 11:33 I was a bit disappointed, almost two minutes slower than at Box End. With so many racing at once, it was hard to tell where I was placed; at the time it seemed like I was a long way back, but actually I was in the first quarter of the wave. Looking at a few other athletes who raced both Box End and Nottingham, and comparing the fastest times of both days, it looks like I was probably only 20 seconds down on the Box End swim I was very pleased with. Versus the average of the 7 qualifiers in my AG, I lost 18 seconds here.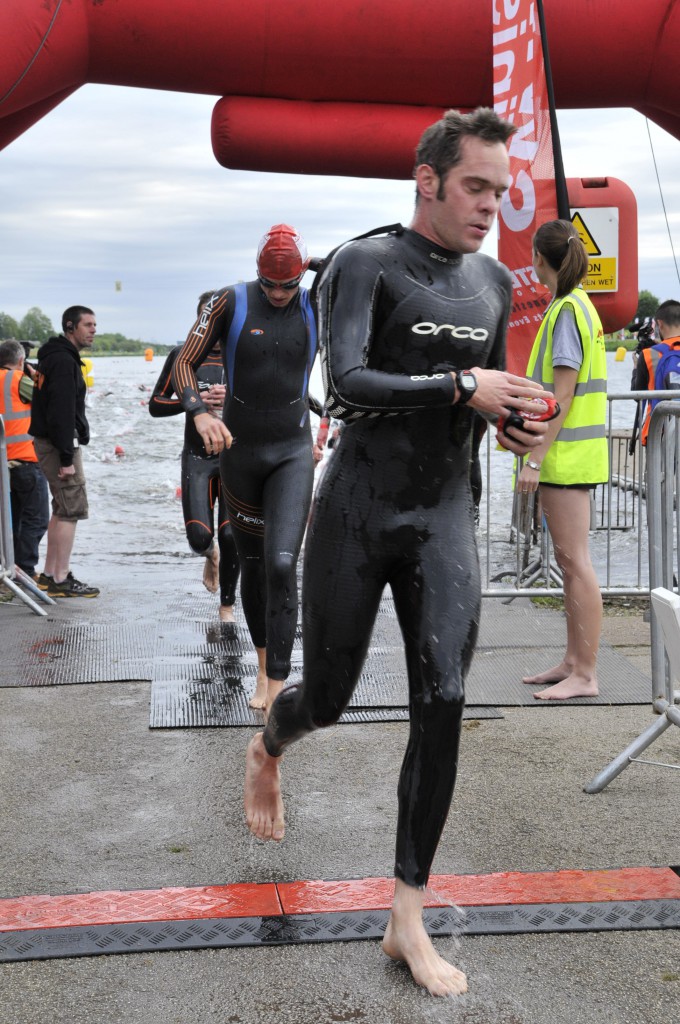 Like a pro, I left my goggles and swim caps in the sleeve of my wetsuit. I struggled a bit with my ankles and fumbled my bike shoes slightly, but I had a better T1 than some – there were several slips and crashes in the funnel. Not my best, and I lost another 12 seconds to the qualifiers here, but it could have been worse.
I did take a few more precious seconds to get cleated in and start moving properly on the bike, so that still needs more practice as well. But once I'd accelerated up to speed, a glance at my watch told me I was going to have a good ride. The new (to me!) Zipps certainly performed, though it looks like the rear wheel's bearings need replacing as it was creaking madly when I put the power down. Despite putting in the ride of my life, I was being passed regularly. The race was non-drafting of course, but with 200 athletes out on a narrow 5km lap, it was hard to avoid completely. I had one off-piste moment on the sharp corner at the far end of the lake on the second lap which cost me a handful of seconds and the tail of the group broiling along in front. My average of 37.7 km/h including the slow start out of T1 is a PB, but the qualifiers in my AG averaged 39.9 km/h, so this is where I lost the biggest chunk of time, 1:41.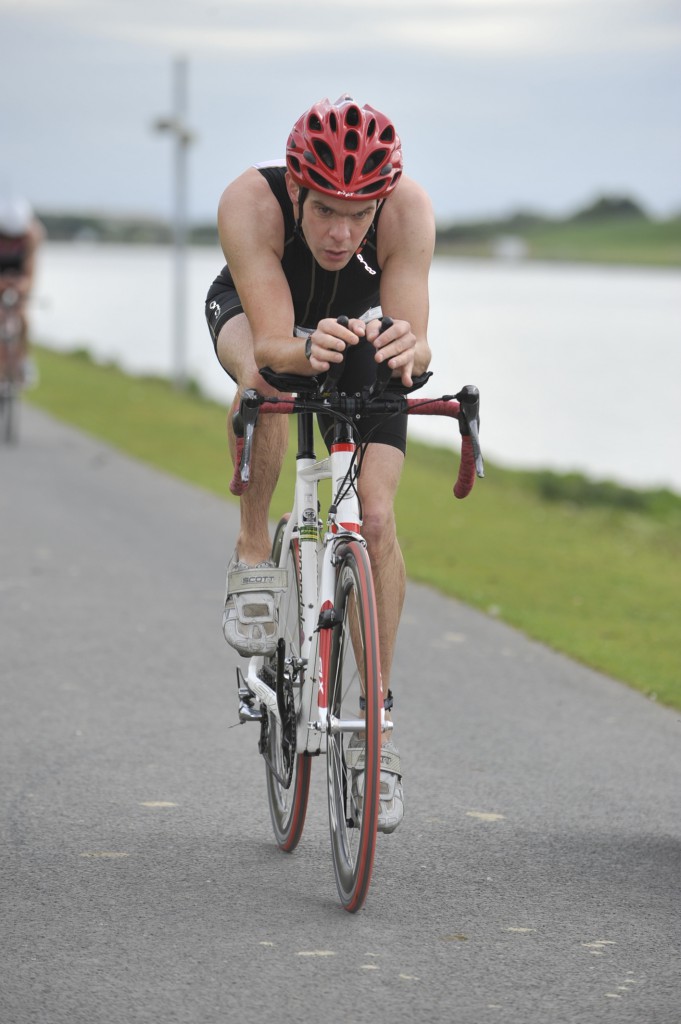 I'd heard Em and the kids cheering every lap of the bike, and in T2 they were able to catch my eye and provide more motivation to push on. This transition wasn't bad, though not my best and I lost 7 seconds to the qualifiers here.
The run was hard work of course! The wind was more noticeable (I had been pleasantly surprised that on my first ride with deep rims, I didn't have any problems in the cross-wind noted by Danny Russell) but I gritted my teeth and got into my running quite quickly. Unfortunately, in a field this competitive, my running is not a strength! I think 18:54, only 13 seconds slower than my triathlon run PB at The All Nations Triathlon, was acceptable but I was overtaken by a few athletes and I'd have needed to run close to an out-and-out 5k PB to match the qualifiers, who averaged 18:08.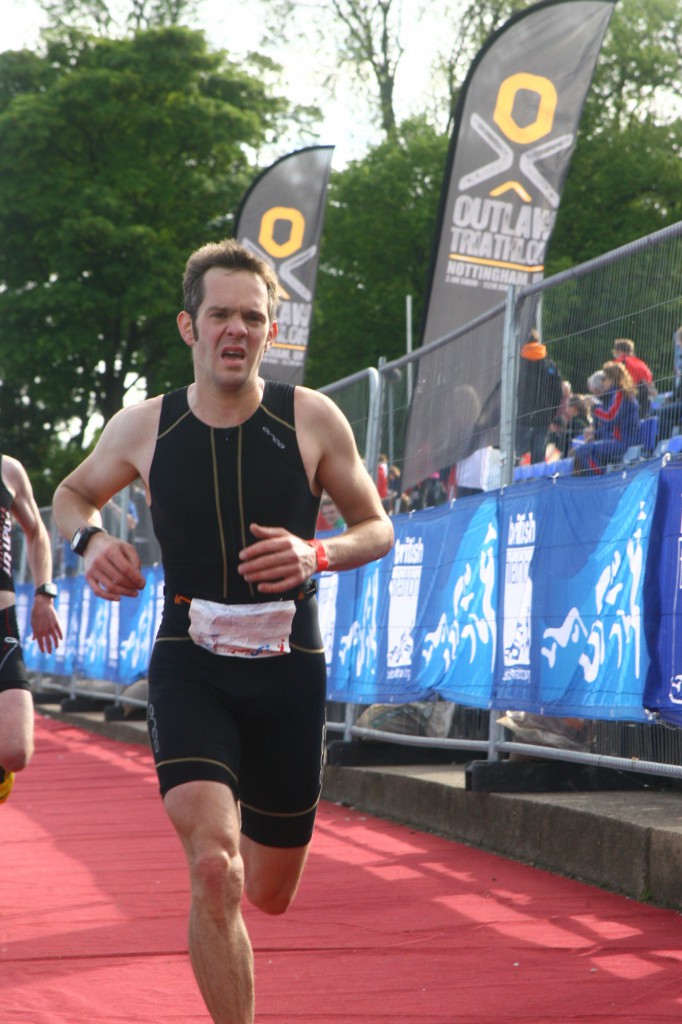 Judging from my HR trace, I was working harder on the bike than normal and not quite as hard on the run, but I couldn't have done any more at the finish; I fairly stumbled through the line, just holding off a 17:29 runner in my AG.
I knew straight away that I wouldn't have qualified, as there were a lot of guys already recovering in the finish pen. It turns out that 1:00:40 was what was required to qualify, within 102.9% of the AG winner, when in other years, 110% would have got you on the team. I'd estimated/hoped for around 1:03, five minutes quicker than I think I could have dreamt of last year, so 1:03:22 (107.5%) is OK.
Race done, I met up with the family and after an icecream we drove back up to Sherwood Forest to finish our holiday. Now I'm back home, I'm already thinking about what improvements I can make before Bristol.
In summary, I would have needed my best potential swim, transitions and run, and to have posted a monster PB on the bike (39.5 km/h average) in order to qualify. That's tough, but there are still things I can improve on right away. Next time round, I won't hold back as much at the start of the swim, which ought to make sighting easier. I need to get moving faster on the bike, no messing with cleats (first lap was 20 seconds slower than the middle two, just due to that faff) and I need to maintain pace right through the bike (last lap was also 20 seconds slower as I began to think about the run). I need to do more bike-run bricks to make sure I'm straight up to speed. And finally, my usual mindset is that I'm racing against the clock; to qualify I have to remember it's a race for a place, and I can't afford to let people past on the run!
Oh, and it'd be so nice to get rid of this –––– sore throat.