A great day out!
Result: 3rd/273
(S: 12th, T1: 7th*, C: 5th, T2: 7th*, R: 7th) *excluding relay teams for the transitions
Date: Sunday 1 September 2013
Format: 750m lake swim, 22km bike, 5km trail run
Race website: http://www.2mevents.com/index.php/event/reading-triathlon-2013
Full results: http://www.dbmax.co.uk/assets/results/1568/original/Sprint_Reading.html
Photos: later?
Initial thoughts: The swim was good, I think, though I made one sighting mistake (or rather one not-sighting mistake…). T1 shows a huge improvement over last year (more baby oil helps!) and it can still be better. And then a great bike leg that obliterates the trauma of last year's edition, 2.5 km/h faster at 36.3 km/h. T2 was good enough. The run… I didn't have much left for the run and it showed; I ended up a few seconds slower than twelve months ago on the same course even though it's currently much easier underfoot. Pace 3:56 /km. But never mind, I was first home from my wave (Male Under 40) and was only beaten by multiple European and World champion Steve Mckeown who blitzed the course and Graham Starmer, another regular GB Age Group team athlete. Definitely a confidence boost before Hyde Park; just need to tune up my run speed. 🙂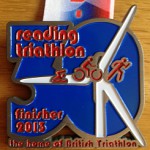 The Tri2O / MySportingTimes team put on a slick event again with another cool chunky custom medal to go with last year's, and a technical tee to celebrate the 30th anniversary of the first competitive triathlon to be held in the UK back in 1983 at the very same venue.
I like racing (and training) here – the lake's good, the offroad run course is fun (though still not sure I could face six laps for the Olympic distance) and the bike loop keeps you interested with fast rolling sections, some technical turns, and a few climbs and descents that provide a challenge without slowing things down.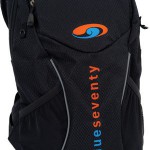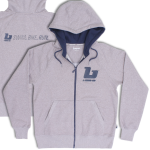 I have two great prizes from MySportingTimes' race sponsors blueseventy (a brick bag) and Bonk Triathlon (which I upgraded from a t-shirt to their icon hoody) as well! Neat!
More thoughts: Swim split was about 15 seconds slower than last year. Maybe the course was a few metres longer as several others in the top 10 were the same amount down. But I guess I'm a bit disappointed not to have improved, despite last year's swim having been my best to that point. On the T1 front, saving 40 seconds vs. last year is great, but on the other hand, the 10 seconds I still gave away to the top guys would have been the difference between third overall and second. Definitely worth working on… hopefully I can pull one together next week. I'm still happy with the bike split and looking forward to planning a winter's training to come back more powerful next season. I do feel like I let myself down on the run, and although it's too late for next week, I think I need to devote some good blocks of training to improving my run technique/speed in isolation before returning to brick sessions.