This seems like a good time to look at some of the numbers from 2013.

For a start, here's a simple comparison between this year and last year, showing a 10% increase in actual training time.
2013
2012
Bike
88:56
77:18

†

Run
44:40
31:51
Swim
9:18
12:16
Tri/Du/Aquathlon

*

17:41
21:26
Gym
51:09
34:50
Other
22:29
33:05
Total
234:13
210:45
*Tri/Du/Aquathlon includes high-intensity brick sessions. See January 2013.
†I'm reclassifying the bike fit and the day on the pedal boat last November as "Other".
Now I've got all my data in TrainingPeaks, I can look at that training time some other ways and the Performance Manager seems like a place to start, but I'm not sure I know what I'm looking for… (The pictures below link to full-size versions where you can actually see something!)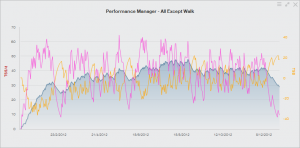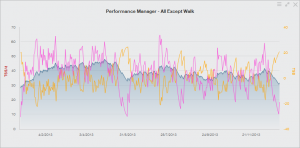 I can see that my highest CTL (Chronic Training Load, or a measure of fitness) was the same in both years, around 48. In 2012, this came the same week as my best result, at Concorde Triathlon mid-August. In 2013, it came at the end of April, the same week as I qualified at the Box End Aquathlon.
Reaching a peak earlier this year was intentional, since the qualifiers were my 'A' races, and it'd probably have got higher if I hadn't got really sick the fortnight before Nottingham.
On the other hand, my good results in September were off the back of a lower CTL of under 40, and with a lax December I've ended the year with a very similar value as I started. Hunter Allen says the Performance Manager Chart is only as good as the interpreter reading it, and I'm still only doing that anecdotally. I suspect that one shortcoming of my TSS data is that until I got the Garmin Forerunner 910XT in October, it's all based on heart rate, not power. I believe that once you have a basic level of training, LTHR (lactate threshold heart rate) is pretty constant (Joe Friel seems to agree), so to my mind, you can't expect to continuously increase CTL based on hrTSS other than simply by increasing training time!
Inconclusive?