I do love the Emsworth-Basingstoke Relay. It's 70 km of all the terrain Hampshire can throw at you, right from the coast to within half-a-lunchtime-jog of the Sony office. It's fab.
Result: 4th team / 19
Date: Saturday 17 May 2014
Format: 70km cross-country running relay in teams of 4-6
Event website: http://emsworthrelay.org.uk/
Full results: not available yet
Photos: not available yet
The weather favoured us this year and the mud was merely deep in places rather than everywhere. 🙂 It was another great day of racing, and all in a good cause, raising money for Meningitis Now.
Team Bravia (Gareth S-B, Chris Clifton, Tony Daniels, Darren Atkins, Simon Haynes and Duncan McGregor) once again took home the prize for fastest corporate team (this time with some non-Sony competition!) and could have had the men's trophy if we'd preferred, as we were truly mixing it at the front this year, briefly leading the race at the Steep changeover, and only ending up 10 minutes behind the winners, the Vet313 team from Basingstoke & Mid Hants AC. We all put in some determined performances to record our best ever time (5:14) as well as our highest ever position (4th overall).
Having missed out last year, I only made it this time by dint of a Friday afternoon trip to the chiropractor because my neck suddenly jammed up solid on Thursday night and I couldn't move it at all without excruciating pain! Luckily Clare Duncan-Hawes was able to get me mobile enough to make the start and adrenaline and diclofenac got me through the day. Phew. Hopefully it'll be properly sorted before the two coming triathlons though!
I was pleased to put down some PRs on the legs I'd done before, knocking 1:30 off the Chalton to Buriton leg (4:08/km) which takes in Head Down Hanger and the same off the East Worldham to Holybourne one (3:42/km).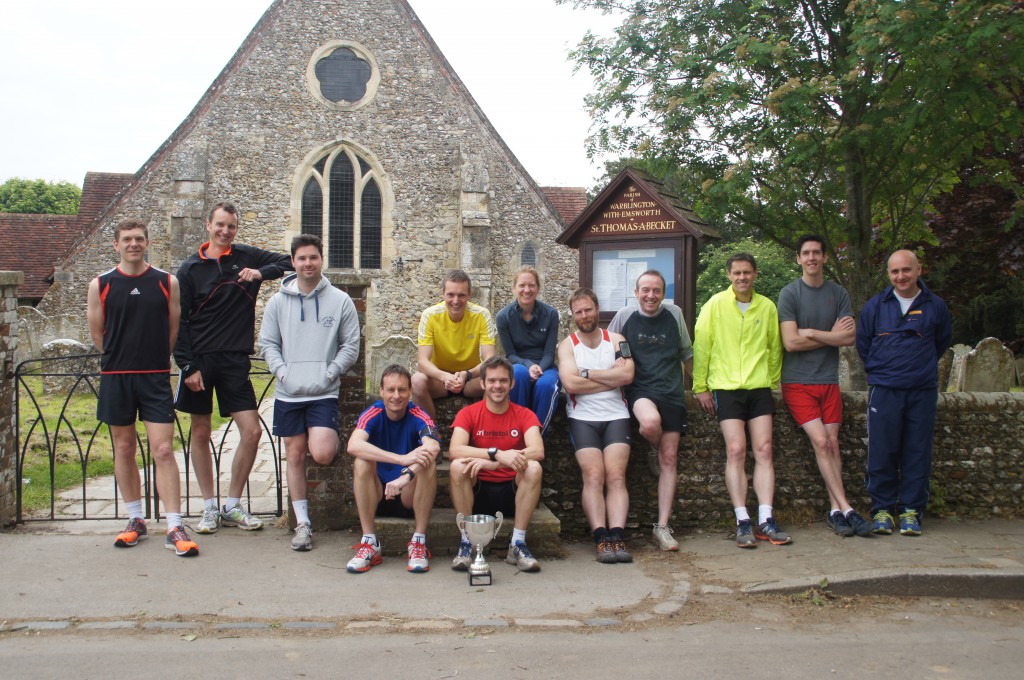 The other Sony team managed a brilliant 12th overall and I hope we'll be back again with two teams next year! Can we crack the top 3?