I've ticked off my first triathlon of the year. Plenty of positives – and lots to work on.
Result: 4th/140 overall
(S: 7th, T1+C+T2: 7th, R: 4th)
Date: Sunday 11 May 2014
Format: 400m pool swim, 29km undulating road bike, 6 km road/trail run
Race website: http://www.conceptsport.co.uk/salisbury-fast-twitch-triathlon.html
Full results: Final results (and on Tri247)
Photos: Charles Whitton Photography (but expires 11 August 2014)
This was my fourth time at Salisbury… On my last try, two years ago, I managed 21st overall. After a good 2013 season, but a horribly up and down winter and spring, this year I went along just to ease myself back into racing with a hope of a top 5 finish, but no real expectation.
The Concept Sport team and marshalls at registration, transition and the swim start were all very helpful, and I'd soon got my questions about the routes sorted out. Racking was numbered, which means not having to think about it, a bonus in my book. There were a good number of pointy helmets, disc wheels and aero cockpits in evidence, but chatting to other competitors I managed to keep nerves in check, and help out a lady who'd been turned away from transition by taping up her missing bar ends.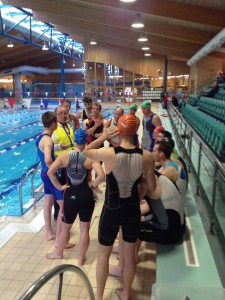 The swim starts were running a little late, but the final wave of 14 athletes with the fastest estimated swim times got going at 09:45. There were 3 or 4 in each lane, set off at 10 second intervals. I was fourth off in my lane.
My first 100m is always quick with the adrenaline, but I'd settled down to a comfortable pace and went through 200m in about 2:45, probably on for a 5:40. I got held up by the swimmer who'd started first in the last 150m and after tapping at his feet for a couple of lengths, I decided to relax rather than bust a gut overtaking, and exited the water with 5:52 on my watch.
I was a bit rusty in transition, but I was off onto the bike with the rest of the wave. Most of us spent the first couple of kilometres trying to stick to the drafting rules, until the High Post traffic lights (where one cyclist narrrowly avoided being taken out by a car turning left without signalling) and we spread out a bit more. I wasn't able to tell how many were in front of me, and of course you can be racing against fast times from earlier waves, so I just tried to keep turning the pedals smoothly and hang on to the one rider I could occasionally see 100m up the road.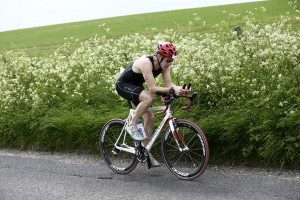 The climb up Church Bottom from Middle Woodford was doubly hard this year with the strong westerly (20+mph) slowing me to a crawl. I look suitably shattered in the photo, and decidedly unaero. I was uncomfortable on the bike to be honest; I'm not sure if I simply need more time in the saddle or to adjust position.
Judging from the HR trace, I relaxed too much on the way back to Salisbury. Although the conditions were tough, and I was 2km/h faster than last time here, my bike split (33.5km/h) was a couple of minutes or more down on the fastest cyclists like Matt Dixon and Nick Onslow. Which incidently it was only really possible to tell from Strava, because as usual with Concept Sport, the splits didn't separate out T1 and T2 from the bike leg. I've spoken to them, and they've said they're planning to introduce chip timing at all future events.
I felt OK going through T2, though my legs were complaining once I started running and I struggled to lengthen out my stride. At least the uphill start to the run leg means you can be forgiven for this, but more brick sessions required.
Out on the trail section round Old Sarum hill I overtook one of my wave and then back on the road was caught by another. With my leg starting to twinge, and judging him to have probably started the swim 10 seconds ahead of me, I decided to just try to hang on and finish inside that gap. Unfortunately I mucked it up, he finished very strong and I trailed in 15 seconds later, a lumpy 6km done at 3:51/km.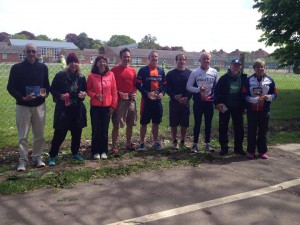 When the results were finally announced an hour later, the good news was I'd finished 4th overall, just over a minute behind the winner, and won the Men 30-39 category to boot.
I'm thinking I could have had 3rd overall if I'd known that's what I was racing for and had the mental strength, but never mind this time. It's a good lesson for the next few races.
So, perhaps a better result to begin the season than expected, but plenty of places where I can pick up time, and will need to, before the next two races and Nottingham in particular.
I'll definitely race here again, the course is a good 'un and the race day organisation is well done, and will be even better with chip timing.