A great race for the season finale again, pity my race head was already switched off!
Result: 2nd/107
(S: 3rd, T1: 2nd, C: 1st, T2: 10th, R: 4th)
Date: Sunday 28 September 2014
Format: 750m lake swim, 22km one-lap country roads bike, 5km two-lap grass/trail run
Race website: http://trytri.co.uk/events/howsc-triathlon
Full results: on trytri.co.uk or download from Tri & Enter race timing
Photos: Facebook album from Try Tri Events and bike and run albums from Paul Gooddy
I got up at 04:30 today, but I won't grumble about that, because Try Tri were already on site at the Hampshire Open Water Swim Centre making the finishing touches for a great event. 🙂
I arrived at Fordingbridge with the mist still hanging over the fields and drove once round the new bike course as the sun fought to break through. The courses Ben and Chris choose often give me the willies worrying about meeting a tractor coming the other way, but they sure are fun. Today's route, after giving you a chance to settle into the bike on the A338,  took in some marvellous narrow country lanes that almost never stopped going up or down. Classic Try Tri.
Other innovations this year included a simplified run course with the finish back by transition. HOWSC is a beautiful location and the run is all off-tarmac, heavy going on the cut grass round the transition/parking/finish field, and easier on the trail round the lake and through the campsite, with the pesky lump between the two at the figure-of-eight crossover the only 'hill'.
Logistics were slick, the sprint race went off bang on time, transition was easy to navigate with plenty of racking space, and of course, there was the famous "Try Tri family" atmosphere. Try Tri are steaming ahead with grander events for next year, including a Scottish iron-distance race, but I really hope they won't leave their local supporters bereft in 2015.
I caught up with lots of familiar faces, including James Saunders who had raced the inaugural Challenge Weymouth half this month. It sounded like an awe inspiring experience – I can't imagine doing anything so long myself just yet! I also had a great chat with Dave Savage, whose Savage Triathlon Club is up and coming in Southampton.
So, the race itself: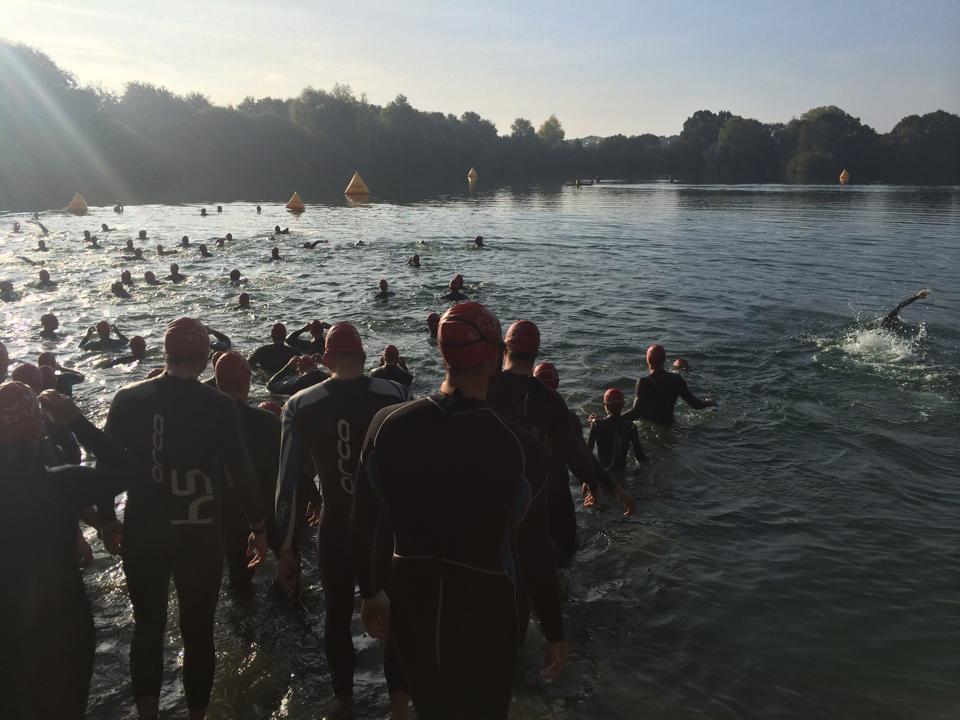 I had a sensible swim. Andrew Cackett led the swim from the off and I followed a small pack to the first buoy and then over the two laps worked my way up to exit the water in about 3rd. I followed Andrew out of T1 onto the A338 feeling quite happy. I spun the pedals to reel him in and then put in a little dig to make a clean break well before we turned left onto the country lanes.
The bike course was extremely well-signed and well-marshalled too. Thank you, guys. I enjoyed the ride and 35.7km/h on a technical course was a reasonable effort, good enough for fastest split.
Out onto the run though, mental toughness deserted me, and I made the decision to just slog round and let what would happen, happen. Well, what happened was that James Buckley of the RAF Triathlon Club, came up to my shoulder about half way round the first lap of two. He never got more than 15m in front, but I just didn't have it today to give him a race. My average pace of 4:01/km is a good chunk slower than both my other two races this month – and than the 3:51/km when I worked hard for the win here last year. Heart rate was a lot lower today too. On reflection, I think 2nd overall by 4.5 seconds, without 'race head' on, is a good enough way to end a long season. I've certainly been learning lessons about the mental side of racing this year!
The only downer today is that for the second year in a row, somebody stole my goggles out of transition. Not cool! If you've now discovered you've got a pair of Speedo Fastskin3 Elite that you didn't have before… I'd like them back, please.
That's it for triathlon this year. I need to get my knee fully healed, hopefully without an arthoscopy, and just enjoy being out in the fresh air for a bit, before I plan the winter training.