Team "3 MAMILs" one-two!
Result: 1st/199
(S: 5th, T1: 4th*, C: 3rd, T2: 19th*, R: 5th) *excluding relay teams for the transitions
Date: Sunday 7 September 2014
Format: 750m lake swim, 22km bike, 5km trail run
Race website: http://www.quintilesreadingtriathlon.com/
Full results: from DB Max Race Timing
Photos: from Sussex Sport Photography – at least for the next three months
Today was my third outing at Reading Triathlon after the bike-on-sports-car incident in 2012 and 3rd overall last year. The latter was part of my final preparations for the world champs in Hyde Park, whereas a year later, the order is reversed and I feel like I'm only just getting over jetlag from the trip to Edmonton. I hadn't opened the bike box and built my bike until midnight last night, but I couldn't miss today, third time's a charm, right?
Also, in two weeks time, Team "3 MAMILs" will be making a return to Eton Dorney for The TRI Challenge Team triathlon, and Andy and Jon had both signed up for Reading as a warm-up, as well.
The course and event site were basically set up the same as last year – it's a great venue. The repositioned mount/dismount line made for a long run into and out of transition but was much safer, as Ceri said it would be. The 2014 bike course (Strava segment) was a slight change from last year's (Strava segment), which had had to detour round some roadworks, but still a good single-lap exploration of the country roads between Reading and Basingstoke. Oli had also worked magic on the track round the lake, filling in the deeper ruts so we had an offroad but not gnarly three-lap run for the sprint distance.
I caught up with Sean Stewart of TVT who was marshalling transition – we rode the Team GB bike recce together in Edmonton – and several other familiar faces. Michael Fabes, who finished 4th in the 16-19 Male AG aquathlon in Edmonton, was in my wave and I followed him into the water. I managed to hold the draft until the first buoy but I didn't see him again. Never mind, that had me clear in 2nd in the wave (all the men under 40) and I maintained that into T1. 11:17 was a decent swim, but almost a minute and a half slower than Michael! There was lots of training advice to be had from athletes and coaches in Edmonton and I'll be working on my swim speed over the winter.
I had a good transition, although it is surely about time I learnt how to mount/dismount with shoes attached to pedals, and set off in pursuit. I rode hard but steadily and although I passed a lot of riders from the earlier standard distance waves, I never laid eyes on Michael. By the time I got as far as Hartley Court, I'd resigned myself to getting off the bike and running well enough to hold onto second, and not letting any of the following waves pip me on time like last year. Average speed for the bike of 36.1km/h is slightly slower than 2013, a bit disappointing. Jon pipped me by 3 seconds, and there was one faster ride, over a minute quicker.
I faffed through T2, and my knee did not feel good heading out onto the run. However, with Ian Harrison's advice to break through the mental limits and not protect it ringing in my ears, I tried for my full stride length. I was glad of the practice lap I'd done on Thursday evening after swimming. I got up to speed pretty quickly, first km was a 3:52, and I didn't see another runner on the first lap.
Two more laps passed uneventfully, with more and more runners joining the course, and I felt like I'd done as much as I could when I crossed the finish line – at least I could stand this year! 20:38 for 5.3km or so (3:53/km) is my best run here, though a way off the 3:47/km I ran on similar terrain at Eastleigh when I did the damage to my knee at the end of July.
The exciting news was that I had in fact overtaken Michael on the bike course somewhere and was in fact first home! He ran in just over two minutes later. We then had ten minutes or so to wait to see if anyone would be quicker. I was chatting and cheering people out of T2, so I actually missed his finish, but Jon was first home from the next wave, about a minute slower than me. Job done, and podium decided.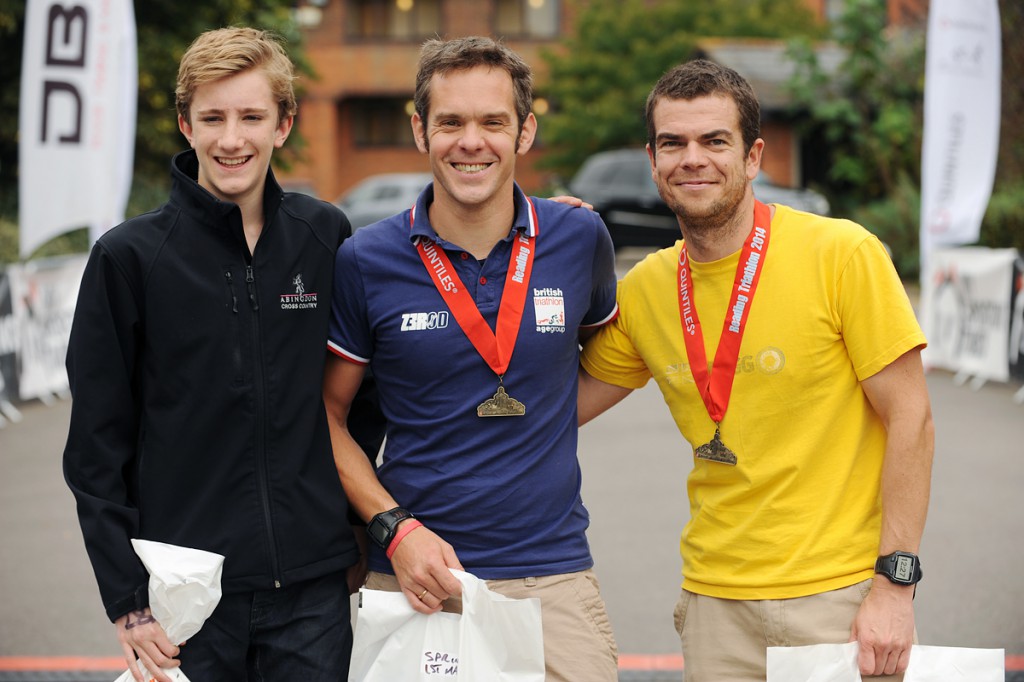 Andy wasn't too far behind, 13th overall (excluding the relay teams), so this bodes pretty well for our team challenge in a fortnight's time! It was nice to have Em and the kids arrive for the prize presentations and we celebrated with a pub lunch on the way home.
Back next year? I hope so!