Or what I did in half an hour on my Bank Holiday weekend.
Result: 37th/221 overall
(S: 57th, T: 31st, R: 43rd)
Date: Sunday 5 May 2013
Format: 750m lake swim, 5km grass run – with a surprising "lumpy bit"
Race website: http://www.galeforce-events.com/triathlon-events/box-end-aquathlon-2013-itu-world-aquathlon-championship-qualification-event/
Full results: http://media.gfe.s3.amazonaws.com/results/2013/BEAOvResult2013.html
As I mentioned in my April monthly review last week I have had to factor in a few days of recovery at the beginning of May. Jill Penfold worked on all the tight muscles in my legs on Wednesday and I did a lot of stretching and foam roller sessions with her advice the rest of the week. I've booked a regular massage between each of the next few races. I didn't manage to get rid of the niggling cold/virus but I was feeling good enough by the weekend to want to go to Bedford and see what I'd got.
I entered Box End as an additional warm-up before Nottingham Triathlon, to stay calm and race in a field that was likely to be very competitive, experience an age group mass start swim, and practise my wetsuit transition another time. As a bonus, Box End was one of the 3 qualifying races for the GB Age Group team at this September's ITU Aquathlon World Championships in London. I didn't expect to qualify, but I registered my intent to have a go, like almost everybody else.
Well, it worked out, on all fronts! There were some super fast swimmers and equally speedy runners (guys who can run a 15 min 5k in a multi-sport event) in my wave of 55, the men 39 and under. The organisation on the day was great, with a sensible U-shaped swim course, a short run into a well laid out transition, and a run course that circled the lakes in a way that meant spectators didn't have to move far to see the start and the finish, and cheer competitors during the run too. I was very lucky to have Em and the kids and my parents along for the day, and their support definitely gave me an extra boost.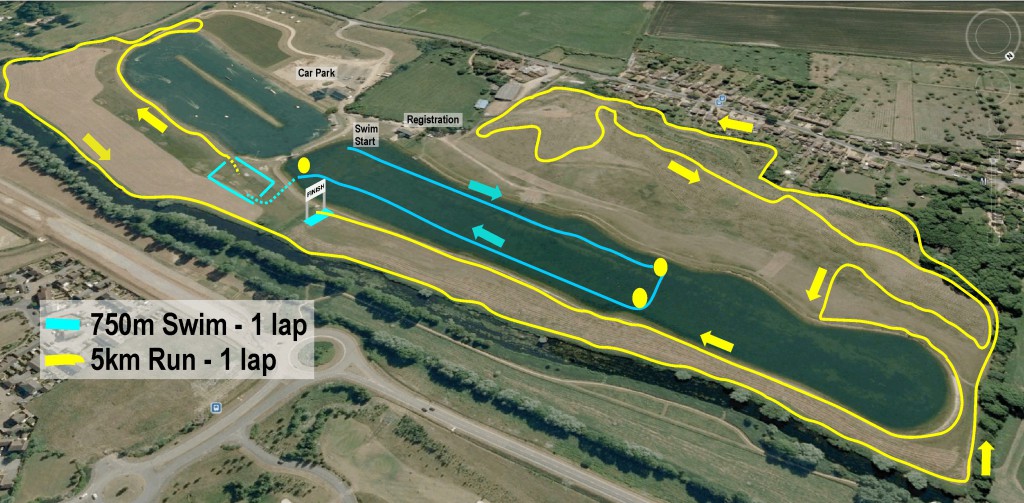 The lake wasn't cold, 13 °C or so. The swim start was ferocious, as expected, but I managed to stay in the pack, mostly avoided getting mauled, and thankfully, managed to swim straighter and keep a better stroke length than at Eastleigh Aquathlon, so that's a result! Heading into the first buoy, I lifted my head properly for the first time, to see the leaders having rounded it but not actually so far in front as I would have expected. With nice clear water, I managed to find some feet to draft or a hip to swim on a few times, but there was a fair bit of zig-zagging going on, so it didn't last for long each time. Down the back straight I managed to maintain form, stay calm, and start kicking a bit more, to wake up my feet and legs.
When I exited the water, I glanced at my watch and saw something around 10:30, which I was really happy with – it wasn't until after the race that I remembered I had pre-emptively started my watch over a minute before the hooter sounded. My actual swim split, including the short run to transition, was 9:36, a massive PB. I have wondered if the swim was a bit short, but it looks like the fastest guys swam the times they might have expected, so I think I was just swept along in the wake of the masses, exiting the water right with the middle of my wave.
I've been thinking hard about improving my wetsuit transition, and this time I had my zip undone and goggles and hat off when I hit the "swim in" mat and despite losing my balance once, I had wetsuit off pretty efficiently and was out on the run in 35 seconds, losing nothing vs. the fastest guys in my AG. Having struggled repeatedly last year (my T1 at Reading Triathlon last year was over 2 minutes!) I'm really happy with this.
One downside of a fast swim, a quick exit and a speedy transition is that there was no chance for my heart rate to drop. In fact, it went up 4 bpm by the time I started the run!
The run was brutal quite frankly. In previous events, my run has been good enough to mean that I can reel people in. I expected that wouldn't be the case here and I was right. Since I was already operating at max effort, I decided for the first kilometre I would just try to keep on distance with the runners in front until my lungs and heart stopped bursting. They just didn't… Running on grass, even when the ground is basically flat, is leg sapping. When I came past the family at about 1 km, my legs were only just staying under me, and I stumbled a few more times during the run. The "surprisingly 'lumpy bit'" mentioned in the race notes was excruciatingly hard and seemed to go on forever. Luckily everyone seemed to suffer on the short, sharp ups and downs and I didn't lose too many places. David Knight and Jon Herd (GB Age Group duathletes last year, both now in M35-39 like me) came past in the second half of the run; I didn't have anything left to stay with them, but it spurred me on to the finish. Final HR: 195 bpm. It would be nice to run with something saved for tactical bursts, but that's probably a luxury to aim for another year!
It took me a good long while to pick myself up off the floor. I checked my watch; 19:47 for the 5k run didn't seem so good, but having looked at the results, I'm satisfield with that. 15 min athletes posted 17 minute splits, so I don't think I could expect to have gone much quicker than I did, even if I'd been 100%.
I caught up with the family and then joined the queue for the results… to see I'd finished 6th/17 in age group. 🙂 Although the BTF haven't yet updated the list of qualified athletes on the 2013 London ITU Aquathlon World Championships page, I was also well within 115% of the winner, so I think that means I'll be representing the GB Age Group team in September!! Woo hoo! Although I'm still focused on doing well at Nottingham in 3 weeks time, which will be even more competitive, this takes the pressure off too.
We took advantage of the fantastic sunshine, the scenic venue and the catering (fruit smoothie for me!) and watched the wakeboarders and kneeboarders doing aerial acrobatics on the cable lake until the prize presentations, before heading home. A great day out.