First tri of the year! In summary: great event, lots of positives, some work still to do.
Result: 13th/222 overall
(S: 10th, T1: 32nd, C: 11th, T2: 25th, R: 12th)
Date: Saturday 11 May 2013
Format: 400m lake swim, 20km flat four-lap bike, 5km flat run
Race website: http://www.thefixevents.com/content/the-all-nations-triathlon-2013/
Full results: http://www.thefixevents.com/content/the-all-nations-triathlon-results-2013/
Photos: http://www.iesphotography.co.uk/Pixaria/gallery/Trinations_Triathlon_2013/
My last tri at Dorney, The TRI Challenge Team Triathlon also hosted by The Fix UK, was a bit of a let-down because the Olympics clear up prevented the bike leg at the last minute. Well, today, The Fix UK put on a great event. It was extremely well organised from the clear parking arrangements, speedy registration desk, cheery marshals and simple to follow swim/bike/run courses, to the chip-timing being online immediately and the photos within a few hours (mostly tagged with race numbers already). Seriously impressive!
I met Andy in the car park and we got registered together. We faffed a bit (surprise!) and left it a bit late racking our bikes as the very best of the (unnumbered) racks were full, but I still managed to find a space that I thought I'd be able to find again after the swim and bike!
The start was in three waves, seven minutes apart, which made for space in the swim and transition but still plenty of close racing. I'd asked if Andy and I could race together, which Dave had kindly sorted. As we were in the third one, we were able to watch the first two waves gingerly picking their way in down the cobbles to line up for the deep water start between two of the pontoons. Very quickly it was our turn. The water was a reasonable temperature, around 13-14 °C, not much different than at Box End Aquathlon last weekend, so I was quickly acclimatized and raring to go.
The competition was less intense than at Box End and I was conscious that I wanted to be comfortable for the bike leg, so I didn't go flat out. I went round the first buoy on the U-shaped 400m course in second or third in our wave and I think I maintained that to the exit. I'm pleased to see in the photos that I'm already undoing the velcro at my neck  as I'm splashing the last couple of feet out of the water. I'm reasonably happy with a 5:57 swim split.
I'm less happy with my first transition (T1). I struggled getting wetsuit off my ankles and couldn't balance while putting my socks on. 15 seconds wasted. (It'd be nice to try to find some bike shoes that wouldn't rub my toes raw so I can save another few seconds by going sockless like I have been in the aquathlons.)
I started the bike leg feeling determined. The wind was a cross-head on the outward part of the lap (map) so it was a question of trying to stay as aero as possible (though the photos show I got this wrong; too hunched up) and pushing hard. My Polar S625X has been getting more and more flaky and it refused to show me (or record) any reliable speed/cadence data so it was a good job I was just working off how my legs were feeling. On the return portion of each lap it was a question of continuing to work hard despite the free ride from the wind now partly at your back.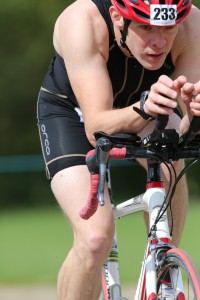 Andy and I had expected that I'd exit the swim and T1 in front but that his time-trialing prowess would mean that sooner or later he'd catch me on the bike. So of course, it was my job to delay this as long as possible. Probably four cyclists did pass me, but after four laps, no Andy. As it turned out, this was partly due to my having a better day than normal (35.7 km/h average, I think) and partly Andy having had a wetsuit fiasco in T1.
T2 was so-so… and I was worried whether I'd pushed too hard on the bike. My calves had been starting to cramp on the last bike lap, so I set off on the run a little gingerly. The head wind felt horrendous, and the first outward half-lap went on for ever… Turning round at the far cone was a blessed relief, and I started to open up. I was overtaking people from the earlier waves, and no-one at all passed me the entire run, but I wished I could move faster. Next time, I'll grit my teeth and get into my running earlier. I will! Even so, with as fast a finish as I could muster, I recorded an 18:41 (3:44 /km) beating one of my goals for the season.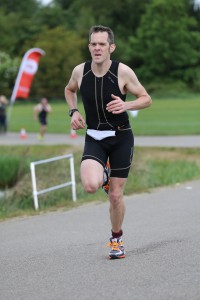 13th overall is a good result, and I know there are a few more seconds to be had in transition, and on the run. I'd still like to find a minute or two on the bike though! There was more than one athlete ahead of me today who I'll be racing in M35-39 at Nottingham in three weeks time. It's going to be extremely tough. 🙂
Andy finished a few minutes later, suffering with an unhealed leg injury on the run, for a respectable 28th overall. The day was won by George Goodwin, the M17-18 who blitzed the Box End Aquathlon last weekend as well. One to watch for sure.
All in all, a great morning's racing. I hope we will be back at Dorney for the TRI Challenge Team Triathlon later this year.