Two weeks to go until the world champs, so the GBR tri-suit gets a first outing at Eastleigh.
Result: 1st/21
Date: Thursday 29 August 2013
Format: 750m lake swim, 5km trail/grass run
Race website: http://www.trytri.co.uk/
Full results: https://www.facebook.com/photo.php?fbid=587925964593022
Photos: http://hammy8241.smugmug.com/2013-Races/Eastleigh-Aquathlon-29813/ – great photos by Paul Hammond
My GB tri-suit is now 'race winning'. 🙂 Got to be good before the world champs, right?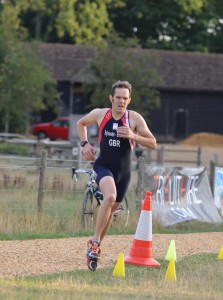 Actually, it was a mixed bag. I experimented with pushing the swim really hard, and that went well, though I need to remember my sighting lessons – landmarks not buoys. There was one faster swimmer on the first lap who I was just lining up to draft until they veered off course to completely miss out the fourth buoy. I fumbled with the wetsuit in transition, and I can't say the baby oil helped much… 25 seconds is quicker than sometimes but I can do better. I'll practise again on Sunday at Reading Triathlon. I struggled on the run. I'd intended to push hard and see how long I could maintain, but incipient stitch held me back, maybe down to the hard swim. I ended up running 3:57 /km pace on both laps. Must do better.
I went back in the lake sans-wetsuit for a two-lap cool down, and practised my sighting.
Swim and run courses were different than last month, of course. I wonder if one of the swim buoys drifted around a bit even while we were racing… It'd make next season's series much more attractive if they'd invest in some heavier anchor weights, or the right length lines, whatever makes those buoys stay put – and place them in the same spots every time! The run finish was moved to just beyond the exit of transition, which I can see makes a lot of sense. The exact distance doesn't matter – Eastleigh is never going to be a PB course with gravel and grass underfoot – but, like the swim, keeping it consistent so that one can compare times would be great. Tonight, we ran the short version of the NW corner (same as last month). For what it's worth, with the long version (along the railway platform) and the new finish, I think the course would actually be 5 km NAD.
Em, Kitty and Zac came along to support which was nice. They cheered and clapped everybody and Kitty remembered my race number for the timekeeper when I couldn't in transition. Kitty even dipped her toes in the water… open water swimming for her, next summer I think. 😉
All in all, just as much fun as always. 🙂 We'll be back for race 6, the last one in the 2013 series in a month's time.