Spring has arrived and I'm slowly catching up with training.

No races again this month, as I'm still coming back from illness and injuries. On which front, I didn't help myself at the beginning of March by swinging a kettlebell too vigorously and hurting my back for a fortnight. D'oh! I have maintained some gym work, with a lot of careful stretching to look after QL and hip flexors which are still uncomfortable a lot of the time. The yoga class I've started attending is helpful too, there's more… thoughtfulness than in much of the rest of the week.
However, I have finally managed some good hours on the bike. In fact this month marks the first month since last August where I've spent significantly more time pushing pedals than I have running. Luckily the running fitness seems to be transferring to the bike to some extent, and I just hope the winter's running will see me in good stead in the triathlons this summer. The biking highlight this month was an 80km excursion in proper Spring sunshine over the South Downs with Duncan, Andy, Budgie, Jon and Brad (Strava). We took in the climb up Old Winchester Hill; I should have taken some photos because there are some wonderful views on the ridge ride.
I'm going to have to post a separate mini-review of a few bits of kit I tried out on that ride. I bought a Sony Xperia Z1 Compact smartphone as soon as it was launched*, figuring that the high performance spec and built-in support for ANT+ sensors in a compact, waterproof, package was exactly what I needed. For longer rides, I was looking to mount the phone on the bike, and Andy directed me to the Quad Lock universal bike mount system. It's fab. I combined it with an inexpensive Terrapin Hybrid Rubberised Back Cover Armour Case – no need for a waterproof one of course. Like I said I'll try to do a bit of review post of these bits and the Android apps I've tried while riding (IpBike, Strava, oh and Uploader for Garmin to get files off my Garmin 910XT without a PC), but suffice to say I'd recommend all of the above. The best price for the Quad Lock mounts is from the company themselves, who ship free of charge within the UK as well as in the USA and Australia. Use this link they gave me for a 10% discount on all Quad Lock products.
*I should probably say that I'm a Sony employee, but I bought the phone myself on an EE contract via Phones 4U; no staff offer on something this popular!
I've still fitted in a few decent runs this month, including several early morning short ones in the mist; a 20k cross-country tour through Basing Forest, across to Morgaston Wood at the edge of The Vyne estate and back (Strava); and a decent training 5k (18:15). But my legs and feet seem to be resenting the miles more than they have done, which I think is because my shoes have reached end-of-life. I keep meaning to head up to my nearest Sweatshop, in Reading, who helped me select my first pair of these (Brooks Ravenna 3), but haven't found the time yet.
There was Sport Relief too, for which the gorilla made a return (see Sport Relief 2012) for our work Sport Relief Mile. All in all, a busy month!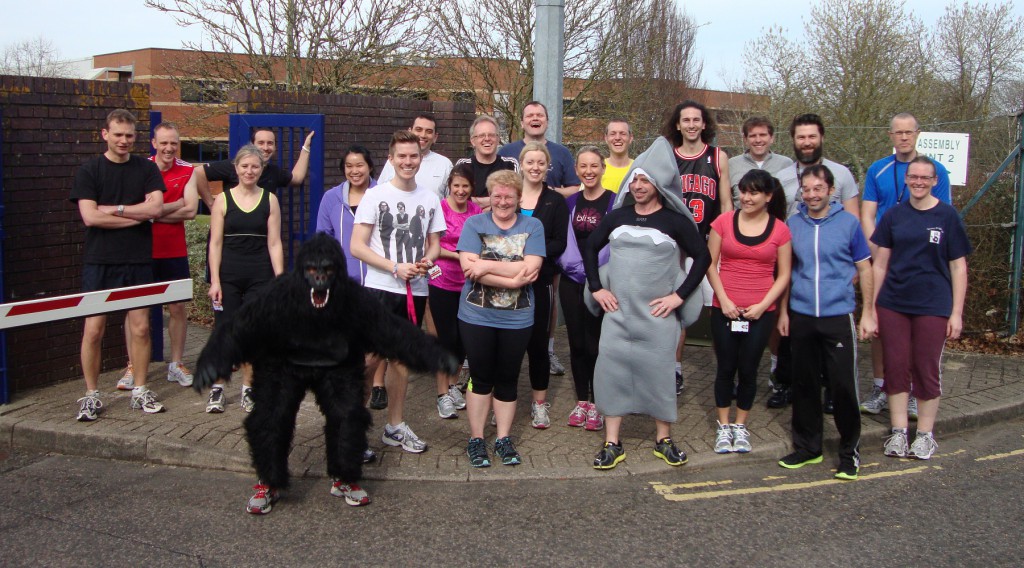 Finally, here's the comparison between this month's training, last month, and this month last year.
| | | | |
| --- | --- | --- | --- |
| | Mar 2014 | Feb 2014 | Mar 2013 |
| Bike | 11:35 | 3:56 | 9:36 |
| Run | 6:02 | 8:55 | 3:03 |
| Swim | 0:00 | 0:00 | 0:00 |
| Tri/Du/Aquathlon | 0:00 | 0:00 | 2:09 |
| Gym | 4:01 | 3:40 | 5:34 |
| Other | 6:00 | 3:00 | 0:00 |
| Total | 27:37 | 19:31 | 20:23 |