A cracking Sunday morning sprint with friends.
Result: 1st/211 overall
(S: 2nd, T1: 7th, C: 2nd, T2: 37th, R: 4th)
Date: Sunday 29 June 2014
Format: 400+m lake swim, 20km road bike, (not quite) 5km trail run
Race website: Eastleigh Open Water Triathlon
Full results: Online at Try Tri Events or downloadable from Tri & Enter Events
Photos: Facebook album on Try Tri Events, by DRG Sports Photography and a set from the cycle leg, by Paul Gooddy
Just like last year, after racing far from home at Nottingham (and Salisbury, and Dorney, closer but still not in my back yard), it's been lovely to return to one of my two closest lakes and enjoy a Sunday morning "racing local".
Try Tri Events always have good venues, with interesting courses, and the race day machine is now well-oiled! Above all though, the friendly atmosphere is what makes them great, and today's tri at Eastleigh Lakeside had this in spades.
The race briefing today was at 07:45, and the venue is a good half an hour's drive even on a Sunday morning. I usually like to arrive at races early and scout transition, set up leisurely, warm up, take advantage of the facilities multiple times, and generally faff luxuriantly. But last night, I decided I'd prefer a few more minutes shut-eye and this being my third year at EOW in a row, would cut it a bit finer. In the event, I didn't have time for much of a warm-up but I managed everything else and was still in wetsuit ready to whoop and cheer and heckle Ben gently in the briefing.
There had been a minor hiccup with my wave assignment but the Try Tri and Tri & Enter race timing team sorted it out so I could enter the water with the rest of Wave 1 right on schedule at 08:15. I'd chatted with GB Age-Grouper Richard Ferré in transition and spotted a couple of fast swimmers from previous Eastleigh aquathlons, so I thought I'd better go out hard on the swim and see what happened. Try Tri have invested in some wonderful large yellow buoys to replace last year's small purple ones (frankly what were they thinking back then?) so the lap was well marked and easy to sight.

Once we'd rounded the first couple of buoys and settled down, there was one guy out in front and three or four of us in a little pack a few metres behind. It was a short swim, possibly a bit more than the advertised 400m but not much, so we exited together under 6 minutes later, and although I was fourth out of the water, I started running quicker, so I'm credited with 2nd fastest swim, over a minute ahead of last year's effort.
My T1 was a little rough but not bad and I crossed the timing mat onto the bike leg, first in my wave… except not exactly onto the bike leg because unavoidably at Eastleigh, it begins with a 200m run to the mount line. This year, another worthwhile innovation to the tried and tested format was the new coconut matting to save our feet and tyres from the gravel. Nice!
I faffed with my cleats incompetently when I mounted, shucks, but was soon out of the Lakeside access road (it's called Doncaster Drove apparently, who knew?)  and onto the cycle lap – we had two to do, each a little under 10km. Unfortunately I struggled with my breathing and really felt like I was fighting the bike to start with – probably the result of not warming up properly and then pushing the swim quite hard.
You get a chance to eyeball the other athletes once mid-way through each lap as there's a 180 degree turn at the roundabout on Templars Way and on the first lap I could see Richard Ferré had worked his way up through the field and there was another group of cyclists looking comfortable pretty close too. Ten kilometres later, luckily I could see that they were all still there or thereabouts but only Richard had made further inroads. I'm definitely not used to being the hare though, it's a most peculiar sensation being out front with everyone chasing you down.
I managed to pick it up on the last 5km back to Lakeside, and ran the bike back into transition still out in front. My bike split (at 35.9km/h) was disappointingly half a minute down on last year, and approaching my bike rack I was still feeling like I hadn't got a lot left for the run. At my station, someone had squeezed a few more bikes onto the rack and moved my kit so that there was obviously not enough room for the bikes I knew were going to be returning after me. I gnashed my teeth for a bit, not sure what to do, but after dithering decided to leave as much room as I could quickly and headed out onto the run. Luckily I met the lady racked next to me afterwards who was most understanding! One small suggestion for Try Tri then… numbered racking – it keeps everyone in the right amount of space; not having to pick a transition spot is a bonus too, one less decision to have to make on race morning. 🙂
I struggled to get moving on the run and my Garmin seemed to take an age to bleep the first kilometre done. (Chris, didn't you say there were going to be km markers? I didn't see them… maybe I was in more pain than I thought though!) Again, it's a weird sensation running with a target on your back, so I just set myself the goal of reaching the second and final 2.5km lap in front. That accomplished I did actually manage to pick up the pace imperceptibly and just ground out the next two km bleeps. Knowing the course is a little short of 5km, I started to believe I might make it at that point 🙂 and managed to stumble across the line for a run split which turns out to have been about as fast I've run here (3:52/km if I believe Strava).
Some of the Emergency Services wave that had started before the main event were relaxing at the finish, so I wasn't immediately sure where I stood… or lay, because it took me the minute or so before Richard Ferré arrived to think about sitting and then standing up. At least I had the very fine new red carpet on which to do so!
But as it turns out, I had won! That's my second ever triathlon win, after Try Tri's equally friendly and scenic HOWSC Triathlon last September.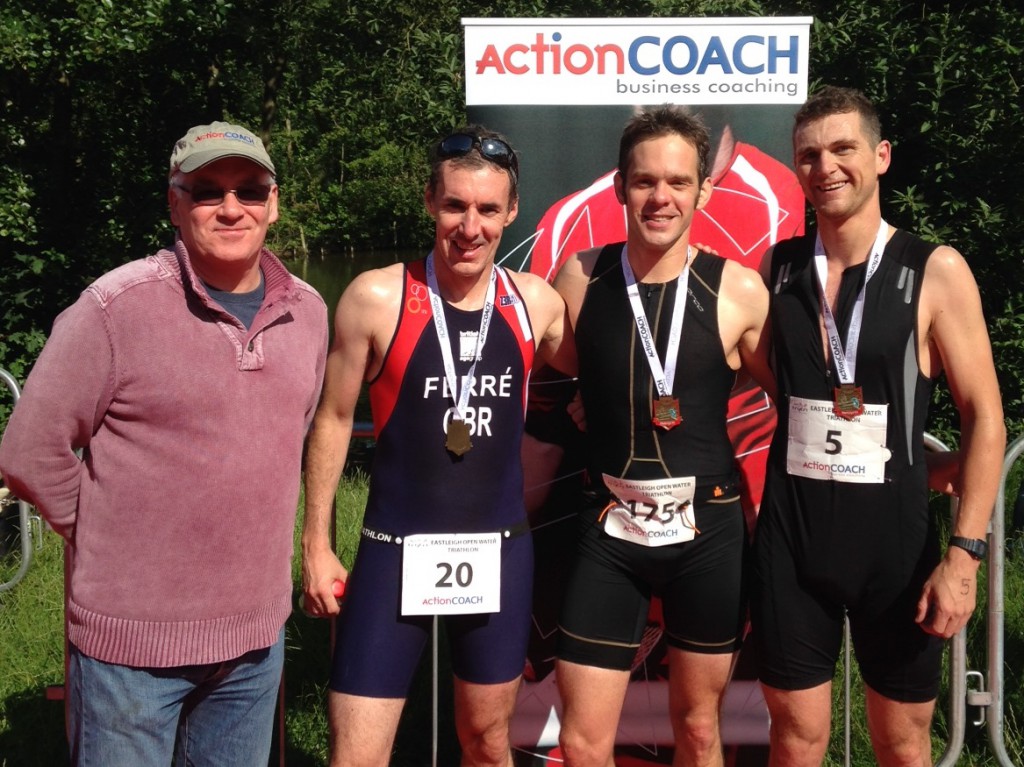 It was great to catch up with quite a few of the Try Tri regulars as well as Ben and Chris, who it has to be said both looked supremely relaxed, and rightly so, because it all seemed to run very smoothly. The Try Tri staff and volunteers made a great event. I've definitely got this year's HOWSC Triathlon and hopefully some of the remaining Eastleigh Aquathlons in the diary.
So, that pretty much brings us to the end of June. After much deliberation, my family and I have decided that after earning a qualification spot at Nottingham I've got to take the opportunity to go to Canada in the GB Age-Group team for the World Champs. It's time to write a training programme for the two months until 29 August! Bring it on!