These longest days of the year have been whizzing by!

Two races this month, both a lot of fun, and two wins out of two! The Jubilee River Swim was a fab day out with super swimming mate, Jon. He's talking about doing the individual 10k next year but I'm not so sure. And having finally managed to catch up with the Try Tri crew this year at the friendly Eastleigh Open Water Triathlon, it was great to race well there yesterday.
In between, training has just been ticking over, despite the incentive of the beautiful sunny weather we've been having. I've had a few niggles with knee and hip pain both on the bike and out running, which aren't fixed yet. In planning the next two months training leading up to the world champs, I'll need to make sure there's enough time to work on the flexibility, stretching and active recovery that I've neglected the last few months without Nic and Jill to nag motivate me.
I would love to talk to potential sponsors interested in connecting with triathletes locally and in the GB Age-Group team, who might be able to support my training and racing in some way. Suggestions welcome!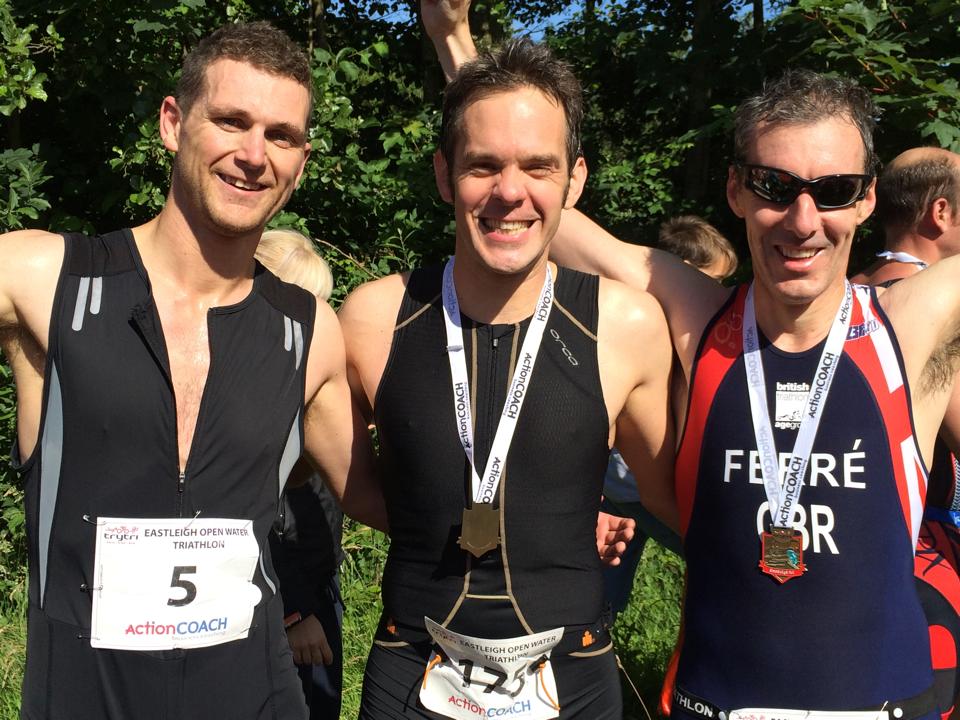 With the focus on 29 August, I'm not planning to race at all next month, apart from maybe the end of the month Thursday evening aquathlon at Eastleigh. However, I do hope to join Andy and Duncan for 200+km of cycling on the penultimate day of their 7-day JOGLE adventure in aid of cancer charities. Please visit their Furious Pedalers blog and make a donation via their fund raising page.
Finally, here's the comparison between this month's training, last month, and this month last year.
| | | | |
| --- | --- | --- | --- |
| | Jun 2014 | May 2014 | Jun 2013 |
| Bike | 7:26 | 3:05 | 8:23 |
| Run | 3:27 | 3:06 | 1:16 |
| Swim | 3:00 | 2:55 | 0:53 |
| Tri/Du/Aquathlon | 1:02 | 3:28 | 3:13 |
| Gym | 0:00 | 0:50 | 5:19 |
| Other | 4:30 | 6:45 | 0:00 |
| Total | 19:25 | 20:07 | 19:06 |