Glorious sunshine, a lazy river, the perfect day out!
Result: 1st relay team / 36
Date: Sunday 8 June 2014
Format: 10km river swim (4-leg relay and individuals)
Race website: http://www.2mevents.com/index.php/event/jubilee-river-swim-2014
Full results: Results from DB Max Race Timing
Today was the 3rd Jubilee River Swim, which I found out about from the lovely folk at the Tri2O Swim Centre. I read Coach Cox's report from the inaugural event, but I decided a 10k solo swim was probably a bit much, since basically the only time I've ever raced over more than 750m was the 3.8k Dorney "Long Swim" I did back in 2012. However, the option of doing it as a relay sounded like fun. The Jubilee River divides naturally into four legs with changeovers at the three weirs. (As they said in the race briefing… wouldn't want to bodysurf down those, would we?)
Jon was up for it, but with Andy currently training hard for a LETJOG attempt in a few weeks time, it was going to be tough to get a team of four together… so we decided to split the distance at the middle weir, which would give Jon the opening 5.4km and me the closing 4.1km. Some teams of two seem to do alternate legs (nice report from 'Frog Mom' last year), but we decided we'd both rather just do our stints straight through.
Em and the kids came with us to Eton and we all had a look at the section of river and towpath from the last footbridge to the finish. The towpath is wide enough for bicycles and walkers to share for most of the route and there are only a few places where the view of the river is obscured by trees, so it works pretty well for spectators. All the bridges make for good viewing points too.
My Sporting Times' organisation was as slick as always and shortly after 09:30, Jon and I got on one of the buses laid on to get us to the start. The journey to Taplow definitely reinforces that it's a long way to swim! 🙂 We took advantage of the portaloos, Jon pulled on his wetsuit and I loaded myself up with both our day sacks, and went down to the river for final race briefing. This was nominally the fastest wave, with a mix of relay and individual swimmers, and everybody was raring to get going, overheating in their wetsuits!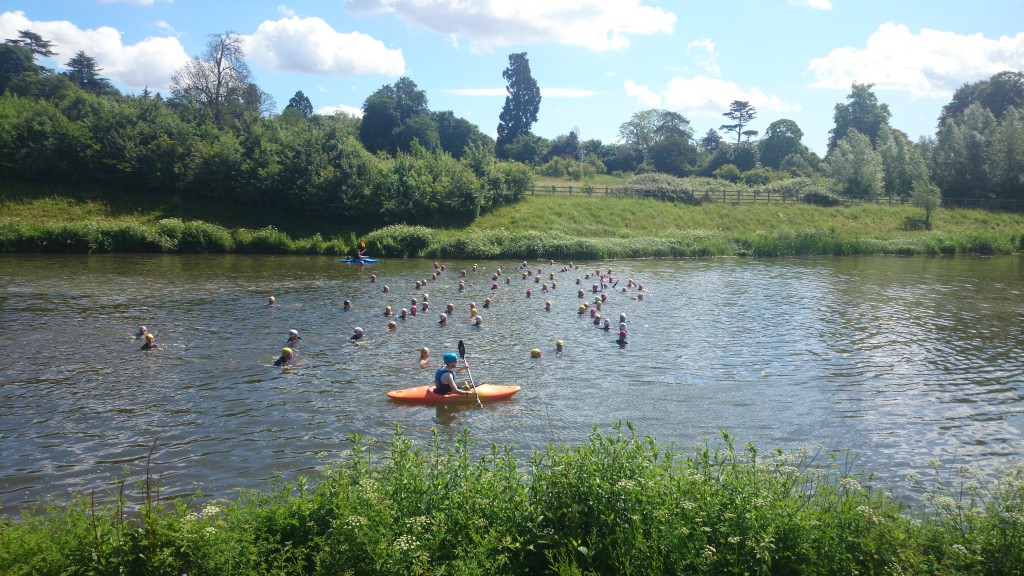 The start was the usual melee, but the Jubilee River is wider than I expected and there was plenty of room to spread out. Very quickly a lead pack of six super-swimmers had detached the rest. After just a few minutes, Jon had worked his way up to the second group in the river with just another two swimmers in the gap up to the leaders. There were a lot of supporters and other relay swimmers like me walking the towpath and we had a sociable time comparing notes.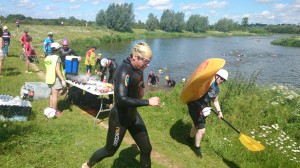 The first weir comes at 1.9km and I got there in time to jog with Jon from the swim exit, past the tempting table of refuelling goodies, for him to get back in the water on the other side.
The swim group reformed and on they went.
The second leg is the longest of the four, at 3.5km not an insignificant swim in its own right. Mid-way through, the front two swimmers in Jon's group (I'm going to call them "red hat" and "white hat") dropped the other two and it became very clear how much drafting helps as it was obvious that closing the gap would be next to impossible. Jon made a concerted effort though and he arrived at the second weir only 45 seconds back, having swum 5.4km in under an hour and a quarter!
At this point, the triathlete in me took over and once I'd grabbed the timing chip I sprinted for the swim entry. I had a bit of a stupid moment when I realised I'd still got my goggles pushed up on my hat but luckily my first stroke hadn't dislodged my contact lenses. Phew.
The speedy transition had done the business and it was actually a couple of hundred metres before "red hat" and "white hat" appeared along side me, still going stroke for stroke. After another few hundred metres, it was clear my unassisted pace wasn't a match for theirs, so the question became could I stay in the draft? Without annoying them by tapping their toes! Luckily I did manage to settle into a rhythm a couple of feet back from the feet in front, and the rest of the 2.6km leg passed quickly.
Sighting in the river is fun, as trying to figure out the best line to the next corner or bridge is more challenging than aiming at a big orange buoy in a lake but there are still no pesky waves to contend with. By this point there were also quite a few swimmers from the earlier waves to pass, politely, and then find the pack again.
At the final weir, I ran as hard as I could but the other two were right there and we splashed into the water together – definitely no stopping at the feed table this time. I'd heard my team mate Jon and support crew (Em and the kids!) so I knew they were up on the towpath, and before long I recognised the bit of river we'd scouted first thing in the morning. I was in danger of being dropped but I caught sight of Jon and my family and gave them a wave before putting head down for the last few hundred metres.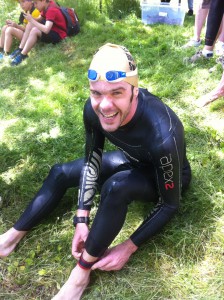 In the end, the three of us had a real race all the way to the finish. We clambered out of the river and fell over the timing mat within a second or two of each other. I think "red hat" was David James and "white hat" was Ivan Lewis, but it might have been the other way round. 🙂
My 4.1km, plus a transition, done in under 55 minutes (watch says 1:16-ish/100m pace)  is much faster than I've ever swum that kind of distance before thanks to those guys – and Jon having blitzed the first two legs to put me up with them!
And relax…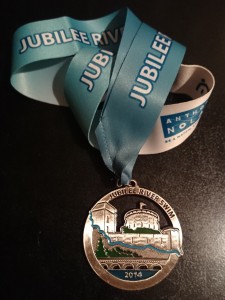 At this point, I did gobble some melty jaffa cakes and gulp some coke and feel much better for it. We collected our custom finisher medals, which are chunky and cool. Before long we ambled back down the towpath to the field at TVAC and picked up our results from the DB Max Timing crew… 7th overall (out of 179) and 1st relay team, woo!
We're looking forward to picking up our prize, an assortment of goodies from race sponsors, blueseventy.