I've had a good block of training these last few weeks so I thought I'd finish the month off with a race at Eastleigh and catch up with the Try Tri crew in the evening sunshine.
Result: 1st/32
(S: 2nd, T: 4th, R: 1st)
Date: Thursday 31 July 2014
Format: 750m lake swim, 5km trail/grass run
Race website: http://www.trytri.co.uk/
Full results: chip timing from DB Max Race Timing
Photos: a Try Tri Facebook album and a great set from Paul Hammond
What a lovely evening (just like the last one I did here), and the usual mix of friends and familiar faces, and first-time multi-sporters. First-time race director Harry did a great job of the briefing, the route was well marked, the new large buoys are still wonderfully yellow 🙂 and we got to race Ben and Chris as well.
The chip timing, new for the aquathlons in 2014, worked perfectly – and Ben is no doubt very pleased with it because the computer gave us both exactly 11:45.0 out of the swim into transition, but says it was Ben across the timing mat first. 🙂
So, I'd planned on seeing if there was anyone to draft round the 750m lap, and it worked out nicely. Ben and I did about a lap at the front each, and without too much friendly pushing and shoving, so I was feeling comfortable running into the transition area on the grass. Wetsuit off and running shoes on, and out onto the run in 1st place. I only managed 4th fastest transition though… no excuses, fumbled a bit. And that's my last race day wetsuit practice before Edmonton!!
It was a bit muggy still even at 7:15 p.m. so I worked my way into the run.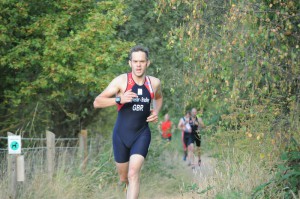 First km was done in 3:53, next one 3:47, third one 3:43. My left knee started 'pinging' unpleasantly (which is a new one on me, and a bit worrying) so I backed off just slightly and ran steadily to the finish, in the end average pace 3:47/km, which is still a PB on the twisty, gravelly Eastleigh course.
We all cheered as everybody finished under the fab new Try Tri gantry and relaxed in the evening sun. Tasty Smashing Strawberry Urban Fruit snacks too! All in all, a thoroughly excellent way to spend a summer evening.