My first outing as a GB Age-Group triathlete. (Post completed Jan 2015.)
Result: 16th/78 in M35-39 (6th/12 GBR)
(S: 17th, T1: 13th, C: 22nd, T2: 23rd, R: 32nd)
Date: Friday 29 August 2014
Format: 750m lake swim, 20km bike, 5km trail/road run (plus another km or more in transition!)
Race website: http://edmonton.triathlon.org/
Full results: on triathlon.org
Photos: by marathon-photos.com (my specific ones, photos for bib 20608)
Somehow, looking back now – I'm writing some of this a fortnight (and more!) afterwards – the race was perhaps the least part of the week in Canada. Read the full story of the week that I wrote as I went along for a full impression of the trip.
That said, this was without a doubt the most significant race I've ever entered, and as well as being the largest (4000+ athletes racing over the week, well over 1000 rack spots in transition), it's the first time I've ever raced abroad. It's worth talking about!!
I guess one of my little worries planning the whole escapade from GB to Canada, was that I wouldn't have Em on the ground with me to instill calm as the pre-race clock ticked down. So it was a good job that the GB Age-Group team made such a great support network, from the moment we checked in at the airport. I've made some good friends while out here, rooming with Will Kirk (Cambridge University tri club captain) and after exploring the bike course with the GB team en-masse, immediately hitting it off with Fin Saunders (Finesse performance coaching). It's been hugely reassuring to have Will, Fin, others in my AG (James Manson, Jamie Martin) and the rest of the 300+ strong team to share the worries about being in the right place at the right time; putting the Sportstiks race number tattoos on correctly; navigating the multi-lap swim, sprawling transition area and the twists and turns of the multi-lap bike course and mixed terrain run; etc., etc. Plenty of the GB team have been doing this for a few years, so there was lots of good advice to be had over dinners and soft drinks. Being in Canada for three days in advance of race day seemed like a bit of a luxury when considering the cost of the trip beforehand, but I'm really glad I was!
Race morning dawned cooler than it had been earlier in the week, but thankfully no rain, just a mist hanging above transition when we arrived. After fiddling with my stuff at my rack – all the GB athletes in an age-group were racked together, so plenty of banter too – and walking transition a few more times, the time went pretty quickly. There were a few waves to watch start, time for a short stretch and a light warm-up, and then it was wetsuit on and into the holding pen.
We were led by a piper the 100m or so to the swim pen on the shore of the lake and then quickly out to the start pontoon. I managed to get a spot where I wanted, slightly to the right of middle, where I'd practised the beach start and knew exactly how the ground dropped away into the water.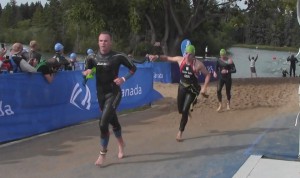 Quite quickly I was able to start swimming my own stroke with a little bit of space on my right-hand side, on which I breathe most naturally. Things got a bit tight around the first buoy, but from then on I had a pretty good line. I wasn't at the front of the field but I was further up than I thought I might be!
I sighted the swim exit better than in practice, and managed to strip my wetsuit to my waist pretty quickly. On the downside, my dodgy knee was already quite uncomfortable on the 500m run to the transition area proper. However, I'd known that would probably be the case so the plan was simple: don't think about the run yet. I fumbled a little at my rack, and with cleating in after the mount line, but was soon off to attack the only real hill on the bike lap, the short sharp shock of Emily Murphy Park Rd.
It was at this point that the first triathlete passed me, and it was Fin Saunders. I grunted encouragement, he must have had a better swim than he expected (or maybe just than he'd let on!) and I probably wouldn't see him again. We were soon out onto the dual carriageway of Groat Road, and although I was feeling below par, I was overtaking too. Then another GB athlete came past, and some time later another. But nobody else from my wave as far as I could tell, a bit odd. We were mixed up with earlier waves on their second lap, and then when we started our own second one, with the following wave as well. Everything got a bit confused!
Finally on the way into transition, a 4th GB athlete overtook me. There had been 12 of us in my age-group, so not knowing where I'd been when I exited the swim this was a bit demoralizing, as it meant my personal ambition of finishing top-3 Brits and securing an automatic (PQ) spot for next year's World Champs had almost certainly gone. I guess I'd known the difficult month of training on my injured knee would make it difficult, but there are some dreams that don't die, aren't there?
As soon as I hopped off the bike, my knee started complaining again, it just felt "all wrong", and having dumped bike at my rack, and started running the long loop round transition before heading onto the run course proper, the thought was a whisper in my mind to abandon right there. But you don't do that.
I did not have a great run. It was frustrating. I could see runners just in front, who I'd have expected to catch if I had felt I could manage my normal stride and push off, but they were just moving away. I made it round, but my average pace of 4:02/km is the slowest I've raced in ages, even on similar mixed terrain. I liked the run route, just not my run on it! I got overtaken by two buoyant Canadians in the closing few hundred metres, managed to raise my arms for the finish, and collapsed.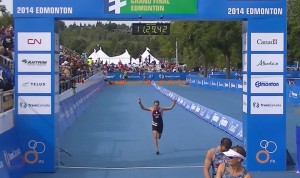 I was a bit emotional then!
It took me a while to pull myself together. 🙂
After a few minutes, I joined the rest of the GB age-groupers who had recently crossed the line, and got the great group photo at the bottom of this post.
It turned out that I had been 2nd Brit out of the water, so with the four who overtook me on the bike, I still ended up 6th/12, and separated from my coveted 2015 PQ spot by less than 90 seconds, which doesn't seem so much considering. It's cool to be racing with class athletes in such a tightly bunched age-group. If you'd told me I could come 16th in the world a couple of months ago, I'd definitely have taken it, but now it's good to have unfinished business… makes for a goal for next year! Fin, who came in 9th, and 2nd Brit, has announced he's going to take up his PQ spot and shoot for a top-3 overall in Chicago.
There's more to come of this wonderful trip still, but I can't leave the race report without thanking the people without whom… There are lots of course, but especially Em, wonderful wife; my parents, supporters always; and Shailen, best MATE! Thank you, thank you, thank you.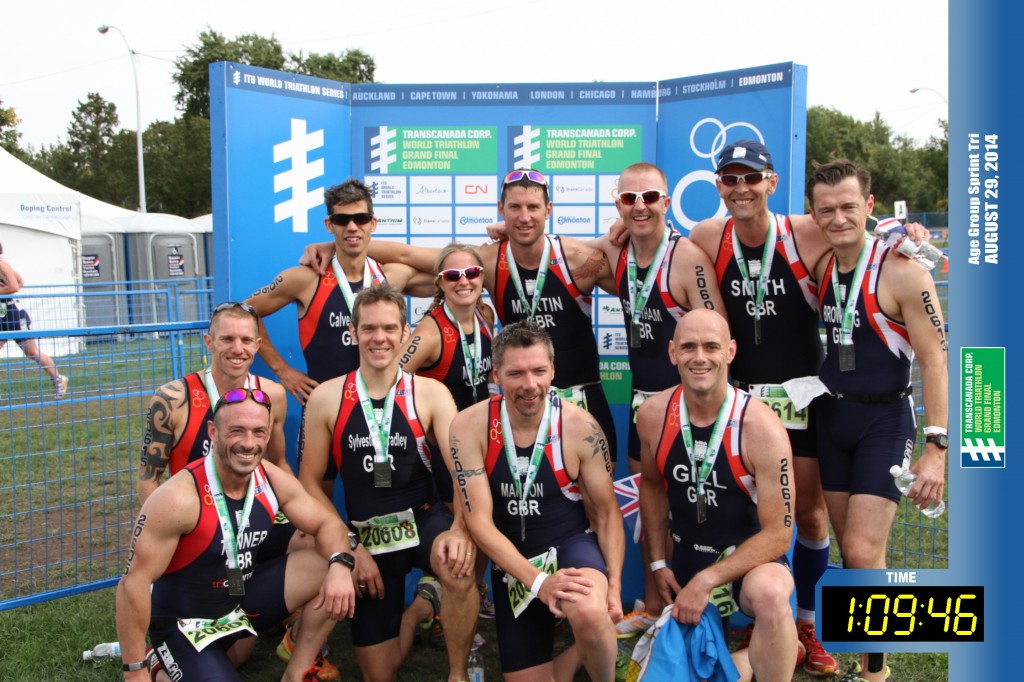 I've accomplished a huge goal I set myself. I'm a GB Age-Group Triathlete!