Earlier this year, I had to call on the services of mountain rescue.
I've had many happy times with family and friends in the hills of Cumbria and North Wales and elsewhere. With the OB Ramblers I have spent a week most winters at club huts in the Lakes. This year's trip we moved to Snowdonia, based at the Bryn Brethynau Barn, the climbing hut of the North London Climbing and Mountaineering Club.

We planned our first day's scramble to be up the north ridge of Tryfan. Unfortunately, things went very wrong and we needed mountain rescue.
The team from Ogwen Valley Mountain Rescue Organisation (OVMRO) were amazing in action. Of course, we are also indebted to the Sea King Search and Rescue team from RAF Valley, and the doctors, surgeons and nursing staff at Ysbyty Gwynedd, Bangor. But, OVMRO are the ones who arrive first, when the situation is out of control. They are volunteers. The most professional, highly trained, highly skilled, volunteers. On stand-by, 24 hours a day, 365 days of the year. The team of 50 have already dealt with about 120 incidents so far this year, more than one call-out every 3 days.
Like all mountain rescue teams in the United Kingdom, OVMRO is not publicly funded. All the expenses of rescue must be covered by voluntary donations and fund raising. With the cost of modern equipment and training, the team's operating budget runs into tens of thousands of pounds. The Ogwen Valley Mountain Rescue Organisation operates over about 150 square miles of Northern Snowdonia. It maintains a base (Bryn Poeth), and two Land Rover Ambulances. It's absolutely worth visiting their website to understand some of what they do and the circumstances in which they have to do it, but having experienced it is something more.
Next weekend, I'm going to undertake a silly challenge to raise funds for the mountain rescue team.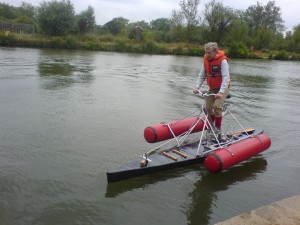 It involves attempting to cycle down the River Thames from Oxford to Wallingford. Not on the tow path. On the river itself. Yes, I'm going to try to ride a pedal-powered boat, "Skippy", courtesy of David Witt. Exactly how many miles I manage rather depends on whether I can keep the boat upright at all (even in the locks!), and how many red warnings the Environment Agency slaps on the river…
(The photo isn't me! In fact, Saturday's going to be my very first attempt to ride Skippy.)
Please, please, sponsor me to raise money for the Ogwen Valley Mountain Rescue Organisation. My sponsorship page on the OVMRO website allows you to make a donation directly to the team. They can claim back gift aid if you tick the right boxes, making them worth even more. Please donate.
Thank you.