Where to begin?

I've had a lot going on! For one thing, I've had some catching up to do with the blog, and I'm still not done. I did get the race reports and monthly reviews from last year finished, but not the wrap-up for 2014, or goal setting for 2015, just yet. I've got a reason for the latter though, as I had the MRI of my knee and I've now got a date for a little knee op in the middle of February, to remove the shredded meniscus. I discussed with the surgeon whether I could delay until after likely 'A' races in the early part of the summer, but his guidance was that the outcome would be better proceeding sooner than that.
I've been reading a lot about what to expect, how to prepare and what the rehab is likely to involve. It sounds like if I'm sensible it'll be six weeks before I can begin running again, with swimming and cycling very gradually re-introduced over that month and a half. How long it takes to get from there to 'A' race fit, I don't know. Can I target the first GB Age-Group qualifier (for next year's European champs), another 6 weeks later?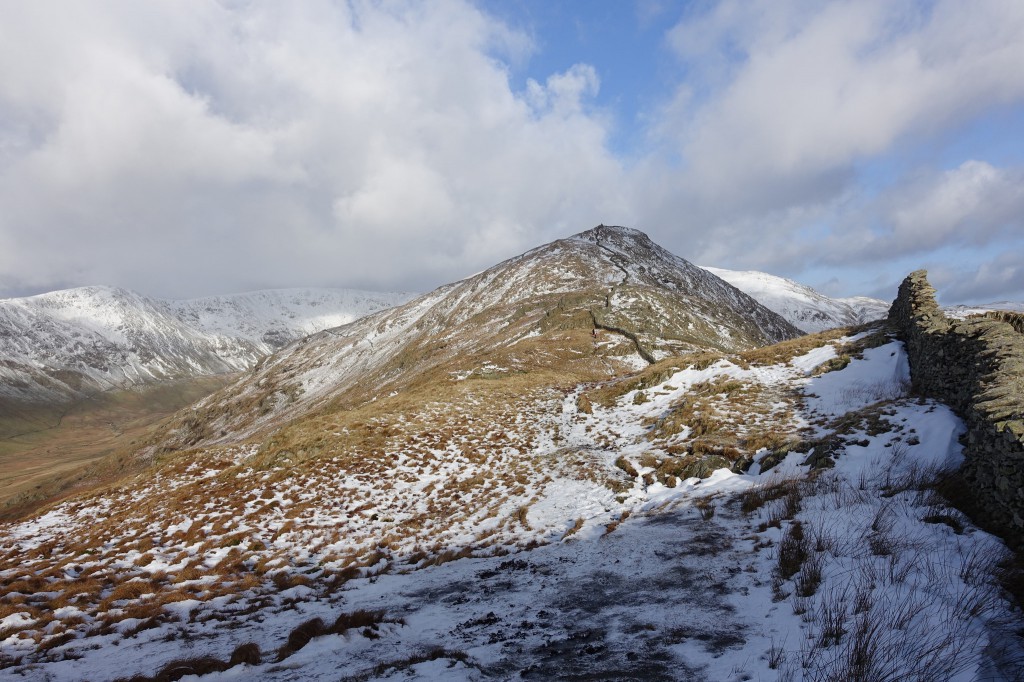 This month, I've also met up with some old friends for our annual OB Ramblers gathering, this time based at the Fylde Mountaineering Club cottage in Little Langdale. We had three days of walking, with good snow on the tops (Sarah's photo album), and I fitted in three reasonable runs in darkness, though mostly on road not out on the fell! And we celebrated Burns' Night in style too. 🙂
I'm hoping to make some new friends too, as I've joined my local(ish) Tri2O Triathlon Club. So far, I've made it to the Monday night swim twice and they've been very welcoming. My fitness has meant I've survived in the fast lane but I've already had good coaching advice that should do wonders for my technique.
So, the next few months are going to be interesting.
Early next month I'm thinking about signing up for one race before the op (a Dorney duathlon, a series I last raced two years ago) just to put down a marker, although I haven't been on my road bike in three months, so I'm not sure how it'd turn out… I'm also going to start PT with Nic Harvey again, which I guess will be focused on rehab – or working round the knee – for a few sessions at least.
Finally, here's the comparison between this month's training, last month, and this month last year.
| | | | |
| --- | --- | --- | --- |
| | Jan 2015 | Dec 2014 | Jan 2014 |
| Bike | 8:51 | 9:39 | 6:01 |
| Run | 13:13 | 7:58 | 6:13 |
| Swim | 1:54 | 0:00 | 0:00 |
| Tri/Du/Aquathlon | 0:00 | 0:00 | 0:00 |
| Gym | 0:00 | 0:52 | 3:47 |
| Other | 3:00 (18:58) | 1:43 | 0:00 (4:24) |
| Total | 26:58 (42:56) | 20:13 | 16:01 (20:25) |
(Figures in parentheses include hill walking! Plenty of work for quads and calves, but not very aerobic.)